10 Best Espresso Distribution Tool
Every barista agrees at this point that a good espresso shot is the result of a combination of art and science. Particularly for espresso varieties, apart from the elementary factors, tamping takes the role of how well will be the consistency of your shot.
With the introduction of various new gadgets for making coffee, an Espresso Distribution Tool is one of them that has considerable impact. Suppose you are using a premium Breville espresso maker but still fail to achieve consistent thick crema, then there must be some issues with your prepared pucks.
Nowadays, you can find baristas using a spinning tool prior to tamping, this is called an Espresso Distribution Tool. It evenly distributes and levels your coffee grounds of portafilter and prepares an even, flat crease for tamping. In this way, when you put the pressure with a tamper on the plain surface you got an evenly damped and compressed puck, each time.
This step can be done organically, but it takes a while to be precise on those methods. However, an espresso distributor makes it easier to achieve consistent results each time without any specialized skills.
I have listed the 10 best Espresso Distribution Tool that belongs to different price ranges and varieties. So you can choose from them easily whatever stage you are on your journey.
Is an Espresso Distribution Tool necessary?
What the heck will an Espresso Distribution Tool do when you already have a leveling tamper? This question may arise in your mind, why should you add this piece of equipment to your kitchen?
Well, it will not do anything huge with grinding your beans or extracting the coffee. Rather, it aids in the preparation of a perfect puck of espresso with a noticeable difference in your extraction. If you ask me, I'll tell you that an Espresso Distribution Tool isn't mandatory, but it is essential for consistent results every time.
Here, I am mentioning a few reasons, you should add this coffee accessory.
Channeling–
Leveling up the ground coffee in the portafilter before proceeding with tamping saves you from the chances of receiving a sour or bitter coffee. When you tamp the coffee directly after pouring it into the portafilter, the pressure varies due to the uneven surface. Therefore, side channels create, and through those channels, water passes by more quickly than the compactly compressed coffee area.
It's a huge problem in extraction, so distribution is crucial. That's where the role of distributor tools comes in. There are so many manual and traditional methods of doing it as well. But I found a coffee distributor tool the easiest one.
Time Saver–
It's a little embarrassing, to be sure! to share all of this, but I'm going to tell you that I'm almost always late in the morning. As a result, to prep my drink in the morning I don't have much time left. So, in a hurry, a traditional way of making my perfect puck seems to be a giant task, but a coffee distribution tool doesn't require that to make one.
Precise Result–
If you are a newbie then by hand getting the perfect flat surface is probably next to impossible. Because those methods require a lot of practice and patience. So, it's amazing that with technology a newbie can also enjoy the excellent taste of a consistent espresso. No more sour taste!

1. Apexstone 58mm Espresso Distribution Tool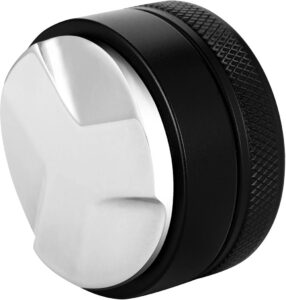 If you are pretty new to the game of making espresso at home, it's always a better option to pick your equipment in mid-range from reputed brands. This 58mm coffee distributor From Apexstone is a perfect suit for that. It is a classic addition to your coffee tools.
The stainless steel base anti-slip aluminum alloy handle makes it a durable, and compact product. You can adjust the depth of it according to the basket by its screw mechanism without the use of additional screws, or Allen keys. This Espresso Distribution Tool works great with many brands like Breville, La Pavoni, Rancilio, Gaggia, ECM, and more.
Using it really simple and just by spinning it for 15S, you got a flat surface for tamping down. The low-profile appearance makes it effortless to level your coffee at 90 degrees with your arm straight.
It eliminates the air pores and prevents channeling so you never get a sour or bitter espresso. With sturdiness and ease of use, apexstone offers a one-year satisfactory warranty and for a faulty product exchange or refund too.
2. Crema coffee distributor tool and Hand Tamper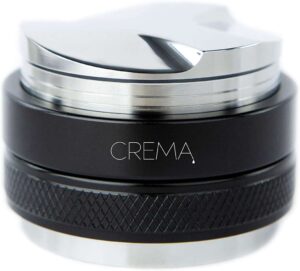 Do you want to be the espresso expert in your family? Well, for making your special espresso shots you certainly need to add a specialty tool to your coffee gadgets. The addition of this two-in-one leveler and hand tamper will elevate your normal espresso shots to perfectly exceptional shots every time.
If you even after owning Breville's best home espresso maker and bringing best-roasted coffee beans struggling to pull consistent shots, instantly buy this. When all your setups are good, then you must be lacking in preparing the pucks. So, this tool will improve that section for the desired balanced taste.
It is one of the best coffee distribution tools, that has been designed to be compatible with 54MM Breville portafilters, and the Barista Express, Bambino Plus, Infuser, Duo-Temp Pro, etc. Other sizes like 45.5 mm, 51 mm, and 58.5 mm are also available from crema.
Set the perfect depth that your distribution tool can reach the coffee surface and evenly distribute the ground coffee. Now turn the leveler and give a level tamping and here you are ready with your perfectly compressed puck. It is available in three elegant colors black, silver, and rose gold, so pick your favorite one.
3. Matow Dual Head 53mm Coffee Distributor
This is another double-headed coffee distribution tool after Crema that you can consider. It can add a top-notch touch to your brewed espresso. With this leveler tamper, every shot from your Breville will be richer and fuller.
This adjustable 53 mm coffee distributor tool fits the Breville 54mm portafilter baskets and Barista Express, Pro, Infuser, Bambino Plus, Duo- Temp Pro, and so on. The adjustable spacer makes it extremely easy to set the depth for precise tamping.
Before placing the blade on the portafilter, retract the height accordingly and lock it in position. Gently spin it 3-times and, you will be excited with the tidy, clean-leveled result. This one insignificant step alleviates any voids, therefore tunneling. You can test the output with a base-less portafilter to see how the extraction differs.
Now, when you are done with the base, flip the side and adjust the height to the highest. The tamping side of this tool is also impressive. You can improve your results by following the instructions provided with this tool.
4. MATOW Espresso Distribution Tool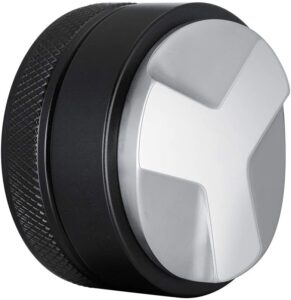 This is another Espresso Distribution Tool from MATOW on our list. Though these two models are almost in features, it's a more suitable match for an affordable price tag. You may have been using the traditional tamper for years and don't want to add massive variables. But still, the meaningful price attracts users to give it a try.
The stainless steel finish low-profile body makes the distribution for baristas seamless. The three-angle slopes consistently redistribute the coffee ground in a circular motion and create a smooth leveled area for even tamping.
Using this distributor tool at a 90-degree angle using your palm or adjusting its height is a breeze. simply unscrew the black rings and lose them from the stainless steel base, then screw it at your desired height. The anti-slip handle is a bonus to this.
It is a simple application for kicking out micro-channeling and rushed distribution. Even if you are an absolute beginner in home espresso-making you can make better shots with this simple tool without mastering the distribution techniques.
5. XUNADA 53mm Espresso Distributor & Tamper
As you know for a delicious shot well-roasted beans are a must-have thing, and similarly, consistent tamping is equally required. A good distribution of ground coffee in the basket ensures your perfect tamping hence the exact shot you wanted. This XUNADA 53 mm Espresso Distributor and Tamper is an excellent tool for the job.
It is compatible with 54 mm of all portafilter baskets. The solid base is made of 304 food-grade stainless steel, the safest material for food preparation and use in the kitchen. Adjust the height by spinning the counter pieces counter-clockwise to lose the device and adjust the depth of the distributor's head.
At your desired height lock it again, spinning the centerpieces in the clockwise direction. Level up the ground surface first by using the blade side and now make consistent tamping with the opposite flat side.
This product has included a bonus custom silicone tamp mat or stand and a luxury gift box. After all, who doesn't enjoy a cake with extra cherries on top?
6. Dailyart Coffee Distributor tool
Many people think espresso distribution tools are luxury equipment to have and they only think about the expensive ones like OCD that might cost $150. But if you are very new to espresso making you don't need to pay that much for precise tamping.
This Dailyart Espresso Distribution Tool is quite inexpensive and costs just around 20 bucks. The results are great, and it distributes well. You will feel the joy of making your drink with it as the anti-slip alloy handle fits in the hand easily and you have smooth handling.
The base is single-line convex-shaped, unlike the ones mentioned above, which typically have three blade slots for distributing the grounds. It can work with major espresso machines that are from Breville, Gaggia, La Pavoni, Rancilio, Hamilton Beach, La Marzocco, ECM, Rocket, Alex Duetto and the list goes on.
7. ALSAINTÉ Espresso Tamper & Distributor
Not many distribution tools are available in 58.5 mm in diameter, most of them are 58mm. A 58.5 mm radius ensures your better concise fitting in your portafilter basket and minimizes the edge gap for a cleaner result. In fact, it works with most of the espresso machines so well that a negligible amount of grounds scatters on your tamping mat.
This dual-head espresso leveler and tamper offered by ALSAINTE is ideal for professional usage. For your coffee shop, it will scale your business in the long run by saving little time on every shot.
It provides excellent depth adjusting settings and the robust black sleek stainless steel body looks attractive. It included a luxury gift box and a silicone tamping pad. The extended 2-year warranty is beneficial to the buyers whereas other distributor brands only give you a single-year warranty.
The textured surface resists it from getting any scratches. It makes a fantastic gift for your loved ones on birthdays, housewarming parties, and anniversaries.
8. KYONANO 53 mm Coffee Distributor with 350 ml Milk Froth Pitcher
Again a budget-pack distribution tool with an extra bonus is added. Apart from the espresso distributor and tamper, if you have plans to buy other accessories too like a milk jug for latte or cappuccino art, you are in the right package. A standard 350 ml multi-purpose milk pitcher comes with this.
For years coffee lovers have been creative in their drink-making procedures for better results. The invention of a coffee distribution tool is a result of that. This company also no doubt cares about the value of giving perfect results. This dual head coffee distributor tool works with 54 mm portafilter baskets.
It is also adjustable as per your basket like other distributor tools and adjusting this is just a cup of tea. First Lose the black rings by rotating counterclockwise then adjust and again rotate in a clockwise motion. It's just a three-step process and you have detailed instructions with the product.
With this high-quality tool making your even surface for the vital step tamping is nearly a 15S process. It will not take more than that for distributing your coffee. The pitcher is also premium made with food-safe 304 stainless steel material with an ergonomic handle.
9. Metallurgica Motta 8350/585 Espresso Leveling tool
This product is known for its precision and super accuracy. It less the gap between the distributor's basket and base, resulting in cleaner performance. Very few coffee grounds stick to the leveler after distributing the grounds. The leveled surface of the basket doesn't even need to tamp further.
It is created by professionals using high-quality Italian design. Metallurgica is an Italian company that produces high-quality coffee accessories for coffee shops, bars, and homes so you can make premium shots in your comfort.
The beautiful and elegant design makes it different from the other levelers. The unique design and the perfect fit for 58 mm portafilters make it a reliable choice for users who only care about having the best shot. The price range gets quite high for this but if you only care about the perfect puck go for it.
10. XIDAJIE Coffee Distributor
This item is well-known for its precision and high accuracy. It closes the gap between the distributor's basket and the base, resulting in improved performance. After distributing the grounds, very few coffee grounds adhere to the leveler. The basket's leveled surface doesn't even need to be tamped any further.
Professionals created it with a high-quality Italian design. Metallurgica is an Italian company that manufactures high-quality coffee accessories for coffee shops, bars, and homes, allowing you to make premium shots from the comfort of your own home.
Its beautiful and elegant design distinguishes it from other levelers. The one-of-a-kind design and perfect fit for 58 mm portafilters make it a dependable choice for users who only care about getting the best shot possible. The price range becomes quite extensive.
Frequently Asked Questions
1. What is an Espresso Distribution Tool?
Coffee distribution is the process of leveling the ground coffee in the portafilter before tamping it for a smooth surface. A coffee distributor tool does this work more precisely than common organic methods. If you tamp down on an uneven surface, it causes air gaps, therefore, water passes through more easily and you miss the rich taste.
Simply circulate the coffee distributor tool on your loaded basket to achieve a flat surface. Usually, in 3-4 spins you get ready for even tamping. Some distribution tools are double-headed, which means 2-in-1 device tamper and distributor tools.
Use the blade side to even out the ground coffee and the flat surface for tamping.
2. How do you use an Espresso Distribution Tool?
Fins and the adjustable coffee leveler on these tools work in a circular motion and level out all the coffee in the portafilter when put inside it. All you need to do is put the tool inside the filter and spin it gently (without applying any pressure) for 10-15 seconds.
Generally, enthusiasts do either of the following things to troubleshoot issues – using a distributor tool with tamping, using just the distribution tool, or going with level tamp alone.
In comparing these three scenarios, a common notion suggested that the even extraction formed single steam the quickest when only a distribution tool was used.
While this doesn't necessarily mean that the coffee tasted better, it does imply that the extraction was even in this case. In the case when only the tamp was used, the coffee tasted a bit bitter and was on the sour side.
Conclusion
An espresso distribution tool is not a piece of fancy caffeine equipment like many others available in the marketplaces. It's going to be a good investment for consistency in your coffee. I am not a fan of buying every possible gadget for my drink, whether I need that or not, but this one owns my heart.
After using this and getting excellent results I can't think of making my espresso without a distributor tool. In this article, I have listed the best coffee distributor tool available in the market. Among them, the Apexstone 58mm espresso distribution tool is the best for me.
you can also read, Best espresso machine under $150