9 Best Espresso Machine under $150
Are you an espresso lover and tired of taking visits to coffee houses regularly? Or do you want to bring a budget-friendly home espresso setup? I understand that purchasing a home espresso machine for the first time can be scary. You want a good machine but don't wanna spend your hard-earned money on some expensive luxury machinery.
An espresso machine under $150 could be the best solution for beginners. Especially during this pandemic, when you don't know when you undergo quarantine, it's good to have your necessary equipment altogether.
Espresso machines differ in technique and price, so grabbing a little knowledge about them before jumping right into a product would be a wiser choice. Under this budget as well, you can have a lot of options from many recognized brands that brew quality espresso with golden brown crema on top of it.
For simplifying your task, our team has gone through dedicated research about the best available espresso makers in the market. As per our experience, we enlisted the 9 Best espresso machine under $150 and tried to draw a comparison between them. Therefore, you can effortlessly choose the best-suited machine for you.
A comparison between an espresso machine under $150 with a machine of $1000 is null and void. Because the techniques of the expensive one are way too different and if you are finding the same techniques in your cheaper one you might be disappointed. But still, you can enjoy a good espresso with a budget-friendly machine.
Are you in a hurry? Then check this out
You might be in a hurry or don't wanna confuse yourself with different models and with their respective features. You want to pick a model that serves you quality espresso every day without disturbance.
So for this, if you want a very simple machine that can be operated easily by a newbie then 1. Nespresso original espresso machine by De'Longhi is the best espresso machine under $150. Further for ground coffee lovers 2. De'Longhi Stilosa Manual Espresso Machine does the magic.
But if you are in search of a portable device for making espresso. Then this 6. Wacaco Nanopresso is the best espresso machine under $150 you can have.
Top 9 Best espresso machine under $150
1. Nespresso EN80B Original Espresso machine by De'Longhi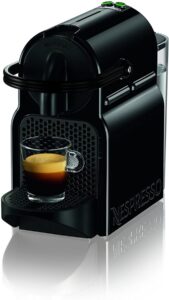 Is an espresso shot in the morning a must-have drink for you? If you also feel that without a rich espresso shot, uplifting your energy level is hard in the morning, this is the right time to bring this Nespresso original espresso machine to your home. Even a novice person can operate this machine easily. This simple machine doesn't offer many options and accessories but only focuses on your morning shot.
Espresso is a rich caffeine drink that activates your brain and stimulates your body and mood. So for many a visit to the coffee shop is mandatory before starting their day. But what if you get your boost, inexpensively. Yes, it's possible. For those espresso lovers who can't sacrifice their drinks and want perfection, this machine is ideal and our editor's first choice.
One thing to note you can only use original Nespresso capsules in this. It comes with a welcome kit of these capsules. The machine heats up in just 25 seconds that helps to serve your favorite beverage very quickly. The water tank on the rear side has a capacity of 24 Oz. That also helps to deliver you 9 cups of coffee without a refill.
The high pressure of 19 bars extracts every pinch of aroma and flavor of coffee into your drink. So your every morning will start with a rich, heavenly aroma of barista-style espresso. Automated, energy-efficient machines shut off automatically after 9 minutes of inactivity.
This espresso maker serves two variants for your drink. You can either have a strong espresso shot or a milder lungo shot in a large cup.
As it features a foldable drip tray, you can easily position a cup of any size for your preferred shot. So for placing the larger cup, you don't even need to drag the drip tray. As a simple and quick beverage maker, this is the best espresso machine under $150 on our list.
---
2. De'Longhi Stilosa Manual Espresso Machine
If you are expecting to have a great-tasting espresso, with awesome steamed textured milk froth, and a quick Starbucks trip right at your home, this machine is for you. There are many De'Longhi espresso machines under $150 but this machine makes second place on the list due to its budget and versatility. The manufacturer brands this machine as a compact and contemporary product for delicious homemade espresso, cappuccino, lattes, and even hot chocolate.
The heart of the stilosa is the robust stainless steel boiler which is efficient in its task of heating and holding the pressurized water coming through the pump. So, the espresso machine ensures its longevity and good performance. The boiler This premium boiler makes it more consistent than its competitors.
The trick of brewing rich espresso is optimal pressure and the art of tamping. This brewer from De'Longhi put a perfect pressure of 15 bar for a precise shot. It's super easy to use with a few steps. One portafilter comes with two filters for single and double-shot espresso. You can consider it the best espresso machine for under $150 for having your drink from ground coffee.
If you haven't used an espresso before this is the best entry-level espresso machine under $150. The dimension of this unit is 13.5 x 8.07 x 11.22 inches. Therefore, the ergonomic design and sleek footprint are suitable for any kitchen countertop. The color combination of high shine black and metallic steel provides it with a classy and sturdy look as well.
Don't need to worry about your cup preference as it includes two-level cup holders. You can place either a larger cup or a small one like an espresso cup when you want. The steam wand works wonderfully and makes fluffy foam for cappuccinos or lattes. So start your journey to be a barista with this Stilosa Manual Espresso machine.
The machine includes all the necessary components that you need to make authentic espresso. A Portafilter, measuring scoop, and tamper. As you know, when you are making espresso with ground coffee all these accessories have their role to make your morning flavorful. If needed, an ESE pod could be used in this machine.
---
3. Nespresso Vertuo Plus Coffee and Espresso Maker by De'Longhi
This is another super-serving Nespresso machine from DeLonghi on our list. I like to have a strong espresso cup in the morning and single-serve coffee in the evening. Nespresso Vertuo Plus coffee and espresso maker is the perfect pair for this purpose. This espresso maker makes better coffee than many high-end Keurig machines.
Operating the machine is just a matter of a click. This automatic smart coffee maker brews single or double espresso shots and single-serve coffee with one touch. You don't need to worry about any process as it is automatic, and you have to do minimum steps.
With a single touch, the lid opens automatically, allowing you to insert the coffee pod before closing it again with just in a single touch. Now Press the single button on the top and it starts brewing rich barista-graded espresso. An indicator light surrounds the single button.
You can only use a Vertuo Nespresso pod in this machine and it comes with a welcome kit of a variety of Vertuo pods. Each type of pod has a unique barcode. This coffee maker automatically adapts that and sets its parameters of brewing progress like temperature and cup size. The welcome kit is excellent for testing your preferred taste.
It uses Centrifusion Technology to drive the hot water through the coffee pod rather than the pressurized water passing method. This new way of brewing coffee is effective and it makes beautiful crema even in the larger cup of coffee as well. It can make 5 oz. and 8 oz. large cups of coffee.
You can also customize the position of the rotatable extra-large 60 Oz water tank for saving extra counter space and convenience. It lets you use even the rear corner of your kitchen. The cup tray is also adjustable so you can lift that in the upper position for single-shot espresso cups.
This attractive espresso machine under $150 is worth having in your kitchen. If you can pull your budget a little up, you can also go with its plus version Nespresso Vertuo Plus Deluxe Coffee, where you get a premium milk frother in addition.
---
4. Gevi 15 Bar Pump Espresso Machine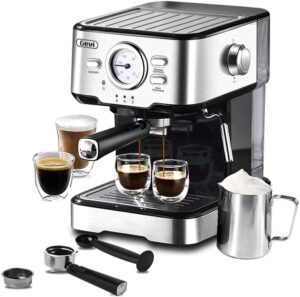 This is a 2-in-1 Semi-Automatic Espresso Machine that provides more control over your drink to make your drink perfect as per your choice. The temperature plays a definite role in the taste and concentration of espresso shots and milk froth.
Here, this Gevi 15 Bar Pump Espresso Machine offers two temperature control systems separately for your water and milk foam. Your control over the froth temperature provides you the convenience that the perfect hot steam mixes with the milk. It ensures your creamy, soft foam that doesn't taste like burnout.
The steam wand rotates 360 degrees for better silky, smooth foam for a homemade latte, or cappuccino. The temperature control panel is visible and that makes it easy to use for beginners. If you are habitual to using an auto-off coffee machine, keep in mind that you must manually shut off the unit after each use.
The dimension of the machine is 10.83 x 15.08 x 13.7 inches. So, it can fit on a small countertop easily.
It's a stainless steel durable unit for making your energy booster any time at your home. The 15 Bar high pressure contributes to flavor and smell and makes stable extraction possible. There is a heated metallic plate on the top of the machine that warms the cups. So coffee doesn't come in contact with cool utensils, preserving the flavor.
To prepare the perfect cup of espresso with this espresso maker, you must carefully follow all the directions. Sometimes while switching the options you may mess up and, to get your settings right, need to switch off the gadget. All of these are time-killing for the morning. And if you go with the wrong settings, you may end up with affected taste and crema.
---
5. Chefman 6-in-1 Powerful Espresso Machine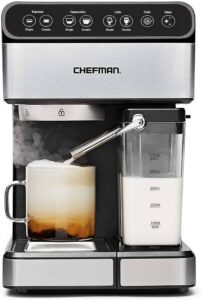 If you don't like to take the headache of calculating milk froth for your latte or cappuccino and don't want those integrated milk frother that needs to be clean after every use then this Chefman 6-in-1 Powerful Espresso Machine under $150 is for you. Because you don't have to take any stress as all of the operations will be done by the machine itself.
It's one of the top categorized espresso makers from this list of best espresso machines under $150. It is a powerful 6-in-1 espresso maker for making all kinds of coffee shop-like drinks. Making americanos, lattes, cappuccinos, and single or double shot espresso's now present in-one touch solution.
If you are struggling to get the barista touch in your coffee drinks, it's time to ditch your old machine and upgrade. The first reason that has attracted me to this machine is the built-in integral cleaning function.
After extracting your shots just push the button and let it do its self-cleaning. This machine's accessories and replaceable parts are all dishwasher-safe, making it a mess-free machine. The water tank is 1.8 L large so you can brew shots without break for the whole family at the breakfast table.
It comes with all the needed accessories like a removable milk tank, scoop, tamper, metal coaster, drip tray, portafilter, and shot baskets. Experiment with your art of pouring milk froth like a pro on cappuccinos with the help of integrated froth and foam function.
This unit is a little flimsy and not that sturdy in comparison to other units like Gevi 15 Bar Pump espresso. In the long run, it may be a problem that is prone to breaking. But overall the stainless steel classy finish adds charm to counter space.
In a way, it saves your space too, because you can use the flat surface on the top for placing your mug and other coffee accessories. So your kitchen space remains neat and clean. It's relatively easy to clean the stainless steel body, you just need to wipe it out with a sponge or any cotton cloth.
---
6.Wacaco Nanopresso Portable Espresso Maker
Can't imagine starting your day without having one espresso shot? Well with the Nanopresso, which is the updated version of Minipresso you can have your espresso shot anytime anywhere. This budget-friendly mini gadget is compatible with traveling, and camping as it doesn't need any electricity or battery. It takes manual operation only.
If you are a passionate espresso drinker who cannot live without having high-quality espresso, this portable device is for you. Though it is designed as a travel espresso maker, if you want to try espresso at home or office without spending thousands of dollars, it can be an option as well.
The machine is a compact kit as all its parts and accessories of it can be combined after use. Unscrew the cup and take out the scoop and the cleaning brush. The brush is given for cleaning the coffee grounds to prevent build-ups. Add hot water in the 80ml water tank up to the waterline.
The scoop makes it simple to pour and tamp the coffee grounds in the filter. It fits perfectly within the filter to tamp down your grounds. Assemble the parts, then twist the piston and start pumping. It will take around 20 pumps to extract your espresso in the given cup.
In the first few pumps, you get rich extraction with smooth golden brown crema on top of it. Later the extraction becomes watery. So if you enjoy a really strong shot cut down your water amount.
This espresso maker lifts your coffee experience to the next level with its super easy process. The water tank and cup are heat-resistant so working with them is easy. After every use cleaning and drying must be done.
---
7. Lavazza BLUE Classy Mini Single-Serve Espresso Maker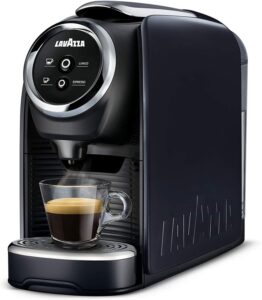 Are you a true fan of Lavazza beans? If you are still not, try this classy Mini espresso maker, compatible with Lavazza blue and expert capsules. You will experience a variety of great-tasting shots.
This Mini single-serve espresso machine under $150 is popular for its classic, sleek and unique rounded design. The compact design makes it a perfect fit for home, hotel rooms, and bars as well. Anywhere you put this placement, the Italian style embellishments and detailings with smooth lines make the place more attractive.
Coming to its brewing features you can brew espresso and lungo shots with this. It has an adjustable height for fitting your preferred cup for different drinks. You can easily use mugs for lungo and typical espresso cups too.
On the backside the 0.7 L removable water tank is transparent. It's visible when your tank needs a filling. Despite that, it has indicators for low water and a full capsule drawer. The capsule tank has the capacity of holding 5 exhausted pods.
The brewing process of this elegant espresso machine is simple. Pour water into the tank and fit it into its place. It will blink for some time while heating up and once it stops blinking, here you go by pressing any of the two brew buttons. Later, if anyone button stops working you can still have your morning beverage using the other.
It is not only stylish, but it is also durable and sturdy due to the use of ABS material. The standby function saves energy, as after 30 minutes of not being used it automatically shuts off. As such, it doesn't carry any major issues but plans your pods previously due to the shortage of availability.
---
8. 3.5 Bar 4 Cup Espresso Machine
If you are looking for a very budget-friendly entry-level espresso maker for coffee shops like cappuccinos, Mocha, or lattes, this Sowtech espresso machine could be a good match.
This stainless steel little gadget of 13.2 x 10.1 x 7.4 inches saves a lot of space in the kitchen and is travel-friendly. The removable parts come out without trouble, and you can wash them in a dishwasher. This makes it one of the best espresso machine under $150 for small kitchens.
This espresso maker is popular for its speed. It starts brewing within 25 S as promised and, within 2 minutes, it completes the process. It's a compatible feature for the morning rush. A quick fix for a cafe-style coffee in the morning from the comfort of your own home.
The turning knob makes your brewing process effortlessly smooth. Turn the knob to the coffee for starting the brew and pause when you get your desired amount. Before starting this process, you need to set up the funnel and lock it in its position.
In the detachable filter take your favorite ground coffee and tamp it gently. Then set the filter in the given funnel. Now it's time to lock the funnel in the unit, thus it doesn't fall. So from the insert position, crank the funnel counter-clockwise towards the lock position on the machine. It's the most inconvenient part of this coffee maker as it frequently takes several attempts to lock it.
I'd like to focus on its milk frother because consumers often praise it. As with this built-in steamer, you can make latte perfect frothy in just 30-40 S. Note down from this frother comes extremely hot steam, so be careful.
The water tank is covered with a lid. Never open it during brewing since the excessive hot gas could cause a burn. If you need to add water, pause your machine, turn the lid a little bit to release the pressure, and then open the whole lid. Also, check the water tank for sufficient water before frothing your milk.
Overall, the sleek, space-saving design and quick brew capability are its standout characteristics. It also has a stainless steel classy espresso cup in addition.
---
9. Capresso 116.04 Pump Espresso and Cappuccino Machine
This is the complete package from Capresso for making cafe-like strong, rich, dark lattes or cappuccinos with excellent crema on top of it. Capresso is a well-known brand in the coffee maker industry and is recognized for its customer support. This unit from them is a budget-friendly option that would not disappoint you.
The parts are produced from stainless steel and BPA-free plastic material. That makes it a durable and safe unit for your kitchen. The optimal pressure of 15 Bar is enough for extracting your desired espresso drink.
You got two filters with this for single and double espresso shots. The double shot filter is a little tiny for enough coffee grounds. On a hurry day, you can also brew with ESE pods as it eliminates your extra steps. The sad part of this espresso machine is that your favorite coffee mug or larger cups doesn't fit with this. But having your espresso shots in typical espresso cups is great as well.
For making your caffee-quality cappuccinos and lattes the steam milk or the milk froth is the most essential part. The swivel frother attracted to the left side of the espresso maker is perfect for good quality silky smooth froth. One plus point of it is the heavy-duty stainless steel warming platform that works great for warming up your cups.
The thermoblock heating system heats the unit quickly, so extraction starts in under a minute only. It is quicker than the boiler system espresso machines as in those machines water heats up at once.
I am recommending you stand by the machine until it fills your cup as it doesn't have auto-shutoff. So if you do not press 'off' on time, the overflow will create a mess. Overall it is an easy-to-use espresso machine for under $150.
---
Things you should consider to pick the Best espresso machine under $150
Types of Espresso machine
Making a delicious espresso is an art and, for nourishing your art, one must have an equivalent art supply too. Hereby the 'art supply' means your espresso maker. In the marketplace, there are various types of espresso makers available. Some are super-automatic, semi-automatic and others are manual.
Under the entry-level budget, you won't find a super-automatic espresso maker that from grinding to extracting the perfect shots, is all done by the machine itself. But you can find sound models of semi-automatic or manual methods.
If you can brew your espresso and prefer to have complete control over your beverage, manual machines may be worth considering. Otherwise, as a beginner or regular drinker of espresso, you can find the best espresso machine for under $150 of semi-automatic type. The majority of the espresso machines on our list are of that type.
Heating System
The heating system affects the taste of the pressurized water that passes through the coffee puck. Water heating methods in espresso machines are classified into three types: single boiler, double boiler, and Thermoblock.
In the search for the best espresso machine under $150 you can find units of three of them, What system you should prefer depends upon your drink choice.
1. Single Boiler
If you just pull single shots every morning for yourself and prefer large cups of simple americanos, a single boiler heating system will be adequate.
2. Double Boiler
A double boiler system provides your unit with more stability and control over the heat. That makes it perfect for pulling multiple non-stop shots. In addition, if you like milk drinks more such as cappuccinos and lattes then a double boiler is suitable.
3. Thermoblock
Thermoblock is the most advanced technology among these. The preheating time is less than the boiler system and you get the results fast. In Thermoblock units you get constant heat water and this system is suitable for all types of drinks.
Grinder
It's a general suggestion that you should follow while buying espresso machines of any budget. In this budget, an integrated grinder doesn't come with the unit. Hence, I suggest everyone spend at least 40 percent of their total budget on making the espresso set up on a grinder.
A grinder is vital because the only finer coffee ground can provide the premium Caffe-quality taste.
Frequently Asked Questions
1. How to choose a home espresso machine?
Well, for a subjective question like this, the answer won't be a simple one, so consider detailed knowledge. Here, I'm giving a short explanation to help you to choose your first home espresso machine.
When anyone takes their first steps of being a home barista they face trouble making their setup. Choosing an espresso machine is a stressful procedure, and it seems that a $1000 espresso machine is required to make superb espresso.
But that's not the case, you can still make the best tasting coffee with any basic espresso machine too if you choose that wisely. The three things that affect your decision are budget, drink type, and your kitchen space. For starting your journey as a home barista you can prefer espresso machines for under $150.
2. How much should one spend on an espresso machine?
The budget fluctuates depending on your requirements and expectations. Like, if you want a premium espresso without any fuss, a range between $400 to $700 will be fine. Furthermore, those who are home baristas for years can go for a next-level expensive setup of $1000-$1500 that includes pretty much everything.
While others who are just starting or want a quick fix can consider the best espresso machine under $150. I see some machines coming under $50, I won't recommend them because they don't pour espresso shots.
3. Is a Nespresso machine worth it to buy?
Yes, it is worth having a Nespresso machine because it's a quick fix for the morning without any scarification. For beginners and those who don't have counter space for large espresso machines and other accessories, it's a great alternative.
They can start their day with espresso shots that rejuvenate their energy by possessing a small Nespresso machine. A drawback is you need to spend more money on capsules.
Every coffee addict should have at least one portable device as their travel partner. A portable espresso maker is especially recommended for those coffee enthusiasts who are travel lovers too. Only they can understand the happiness of having an espresso shot camping. Wacaco Nanopresso Portable Espresso Maker is one of the best espresso machines under $150 for traveling.
Conclusion
Your presence in this article indicates that you are in quest of a budget-friendly espresso machine for home usage. I'm assuming you're not going for expensive and larger options for three reasons: budget, grabbing a quick solution, and smaller counter space. So for these three problems, our top pick Nespresso Original Espresso Machine by De'Longhi works best and gives you a smooth start every morning.
The other models in our list as well are suitable for different preferences, I would encourage you to go through the list for picking the most suitable one for you. The choice for the best espresso machine under $150 can differ due to your capsule preference, choice of heating system, or for your love to ground coffee espresso.
Also read, Gifts for your coffee lover friend