Top 10 Best Non Electric Coffee Maker With Detailed Specifications
Nonelectric coffee makers have many advantages over electric coffee makers. As a coffee lover, you can manually customize your taste of yours in non electric coffee makers. It gives a personal touch to your morning joy like cooking your favorite food. If you prefer to brew your morning cup by hand, there are several options in this article for you.
These coffee makers are light weighted and come with budget-friendly prices and with compactness. As they are portable, you don't have to miss your favorite drink while traveling, hiking, or camping.
But the problem is there are many coffee makers available in the market. Among them, choosing the best coffee maker is difficult and time-consuming.
For this reason, we researched a lot for a couple of months, and now we have come up with the top 10 best non-electric coffee maker with detailed specifications.
We have shortlisted different best nonelectric coffee makers like pour-over, French press, cold brew, and AeroPress. So, you can choose any of these according to your needs. Now, enjoy your favorite coffee with your type of coffee maker without electricity.
Top 10 best non electric coffee maker:
LuxHaus Moka Pot Coffee Make

✓ Safety- valve certified.

Melitta 640616 Coffee Maker

Bean Envy Pour Over Coffee Maker

✓ Borosilicate Glass-Carafe

OXO Brew Pour-Over Coffee Maker

Pour Over Coffee Maker by Bodum

✓ 12, 17, 34, 51 ounces - capacity

Veken French Press Coffee Maker

✓ 12, 21, 34 ounces - capacity

✓ Made of borosilicate Glass

Mueller French Press Double Insulated 310 Coffee Maker

✓ Made of stainless steel

✓ 3 layered filter structure

AeroPress Coffee and Espresso Maker

Cold Brew Coffee Maker by Takeya Patented Deluxe

GROSCHE Milano Stovetop Coffee Maker

✓ 1,3,6,9 and 12 cups of capacity
LuxHaus Moka Pot Coffee Maker:
Are you searching for an espresso-sized cup non electric coffee maker? If yes, then you can select this product without hesitating at all. You can choose this product blindfolded as it is one of the best nonelectric coffee makers in the market.
This product possesses a spout finish which makes the coffee easier to pour. It comes with a great heat-resistant handle which allows you to pour the coffee easily without getting your hand burnt. The pop-out dispenser helps to clean the coffee maker without creating any problems. The product possesses a hardy stainless steel body.
There is a safety valve attached to the product for pouring out the coffee with the necessary precautions. This product can easily be used for camping purposes, as the portable device has high-quality stainless steel that can sustain the heat of induction, gas, or camping stove
It has the capacity of six espresso-size cups of coffee at one go. The device makes brewing espresso at home so easy that you can avoid your daily visits to your nearest coffee shop for having your favorite beverage. It saves your time, money, and health as well.
As it promises to be 100 percent rust-free even after years, it can brew hygienic coffee without flame-off metal pieces in your cup. Now it's the time to be the barista of your family and friends. Therefore, show them your hidden talent of making coffee shop-style freshly-brewed espresso.
This coffee maker is the best choice for you if you are looking for the best non-electric coffee maker in the market. You need not go elsewhere to look for any other brand.
2. Melitta 640616 Coffee Maker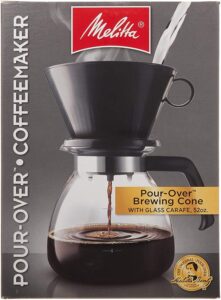 In terms of brewing the perfect taste of coffee where you bring accurate flavors, pour-over coffee makers are best. Many baristas love this way of brewing over theirs because they can monitor the brewing and have full control. This pour-over is one of the best-reviewed and famous coffee makers
Melitta Company has specially designed this product to prepare any kind of delicious handcrafted coffee. It can be used to brew a fresh cup of gourmet coffee. This will be one of the best nonelectric coffee makers for home use.
This product will be a good choice for family gatherings as it serves 52 ounces of coffee at a go. You can enjoy the best flavor of coffee with your family and friends.
The slow dripping process provides the time for brewing a fresh and exclusive serving of a flavorful and extremely rich cup of coffee which is far better than any other coffee maker in the market. The added advantage of this coffee maker is that it is dishwasher safe and provides an excellent brew of your favorite coffee with a convenient design.
The product uses mostly Number 6 cone filters which are much more convenient but you can also use the number 4 cone filters.
It makes extremely nice gourmet coffees and enhances your brewing experience with the freedom of selecting a variety of filters like cone filters, basket filters, and tea filters. Get ready for the ultimate coffee experience with this product.
3. Bean Envy Pour Over Coffee Maker
Bean Envy Pour Coffee Maker is a premium non electric coffee maker in the market. If you are a fan of great filter coffee this product is the best suited for you. There is no need to use single-use paper filters as it comes with an excellent stainless steel double-walled permanent cone filter.
Single-use filters are not environment-friendly and create a lot of waste. This coffee maker comes with a stainless steel micro-mesh funnel strainer, on which place your freshly roasted coarse coffee grounds. Now carefully pour the hot water at the ideal temperature over the coffee beans to allow for optimal flavor extraction.
A real coffee lover will surely appreciate the richer and bolder taste which this coffee maker provides. The stand-alone drip coffee cone makes this coffee maker stand out from others. Make barista-like coffee at the comfort of your home, rather than going to coffee shops for an excellent morning coffee, with this pour coffee maker.
This coffee maker is composed of high-quality borosilicate glass, which is non-toxic and chemically inert. The glass is also heat-resistant so, you can effortlessly grab the handle and pour your hot joy. The silicone coating at the bottom of the coffee pot ends the risk of accidental slipping and resists the cracking on the countertop, caused by the heat production.
This coffee maker is simple to use. Even a child can use it if he follows the instructions carefully. This product is super cost-effective and pretty easy to maintain and clean. The process of purchasing this coffee maker is quite hassle-free and comes with a 100% satisfaction lifetime guarantee.
4.OXO Brew Pour-Over Coffee Maker
If you are searching for a great single-cup pour-over coffee maker with an elegant body then stop here. This product has a sleek white appearance which will make you start your day with the best-brewed pour-over coffee with very minimal effort.
The auto-drip tank present in the coffee maker excellently controls a consistent water flow rate which results in a very well-balanced brew and a richly flavored cup of coffee.
The advantage of this product is you do not have to stand by with a kettle beside it. It is extremely self-operative. The water tank is designed in such a way that it distributes the water nicely and evenly over the ground coffee beans. The presence of the measurement markings on the carafe shows exactly how much water you can add up.
In addition to this, the two holes below the water tank regulate the amount of water flow for an ideally brewed cup of coffee. The lid on top of the tank helps you to regulate heat and retain the heat as well so that your coffee does not get cold over time. The dripper is made up of rubber which is essential for regulating the coffee flow.
5. Pour Over Coffee Maker by Bodum
Are you looking for a unique, elegant, and good capacity-based coffee maker? Look no further. This is the best product that will suit your morning coffee needs. Bodum coffee maker comes with attractive features that no other coffee maker possesses.
This coffee maker can be used without a paper filter which is not environmentally friendly. Instead, it uses a permanent stainless steel mesh filter which eliminates the need for the usage of any paper filter or capsules. Though, you can use a paper filter for better taste.
The body of the product is made up of Borosilicate glass which is temperature resistant and quite non-toxic. It is easy to handle as well. The product is dishwasher safe and can be cleaned up pretty easily without any hard sponges.
If you need your coffee to taste like a perfectly brewed one without any other plastic taste this product is best suited for you. This coffee maker comes in different sizes (17-51 ounces), you can choose according to your needs. Lots of positive reviews from users and its features make it a value-added product in our list of best non electric coffee makers.
6. Veken French Press Coffee Maker
If you are in love with a great cup of French press coffee, you should definitely opt for this particular product. Why this product? Well, to answer your question I do have several reasons to choose this product over any other French press coffee maker. This product is BPA Free and is made up of 304 Grade Stainless Steel.
This Veken french press will be a valuable addition to your kitchen and will be a great gift for your near and dear ones. The glass carafe elevates the whole coffee-making process and allows you to make a rich brew of French press coffee.
The four-level filtration system allows one to taste the authentic aroma of your premium French coffee. The Ergonomic handle allows you to have a safe coffee pouring experience.
The Borosilicate Glass carafe induces great flavor in the coffee and helps in noise reduction while preparing the coffee. This also helps in monitoring the whole coffee-making process which is kind of therapeutic.
The very powerful filtration process helps you to minimize the residual grounds in your coffee. The coffee will taste like it's straight from your favorite coffee shop without any hassle or with minimum interruption.
7. Mueller French Press Double Insulated 310 Coffee Maker
If you really like your coffee to be flavorful and rich without losing its original taste then you can surely go for this product. This product is portable and can be the best coffee maker for camping. As it's very light weighted and durable and perfectly fitted for travel purposes.
This product comes with a lot of surprises in terms of innovative filters. The triple-layer filter structure helps you to retain the flavor of the coffee along with the essential oils eliminating the lumps and sediments in the coffee powder.
The body of the product is made up of stainless steel which is essentially durable, non-toxic, and portable. There is also a travel canister provided free with the product which will facilitate and enrich your traveling experience.
The stainless steel body of the product will keep your coffee warm or cold for a super long time. The double-insulated body of the product helps you in retaining the temperature of the coffee.
It is drop-proof, rustproof, and extremely hardy. It is an ideal product for your coffee needs along with your needs for other drinks such as hot chocolate, frothed milk, fruit infusions, tea as well as herbal drinks. This Mueller French press will be perfect for foodies who like to have gatherings, camping, and celebrations.
8. AeroPress Coffee and Espresso Maker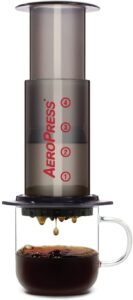 The new technology AeroPress coffee maker uses a rapid and total immersion brewing process to eliminate the bitterness of the coffee beans. This product will help in reducing your acidity problems stemming from the consumption of coffee. It's ideal for home kitchen use.
The drawback of the French Press is provided with a remedy with the invention of AeroPress. The cleanup of the microfilter in the product takes a few seconds and the grit and dirt are easily eliminated through the cleaning procedure.
You can make a lot of different kinds of coffee with this product. You can make lattes, cappuccinos, and other espresso-based drinks within no time with this new product. The coffee maker is compact, durable, portable, and can be used ideally for traveling purposes and camping purposes as well.
This product is used in kitchens at home and in offices. As it is a very lightweight product it can be carried anywhere and can be used anytime to enjoy a freshly brewed cup of coffee as if straight from the coffee shop.
The product comes with a lot of assorted things and 350 microfilters. On top of that, this product is Phthalate-free and BPA Free which is beneficial to the environment.
9. Cold Brew Coffee Maker by Takeya Patented Deluxe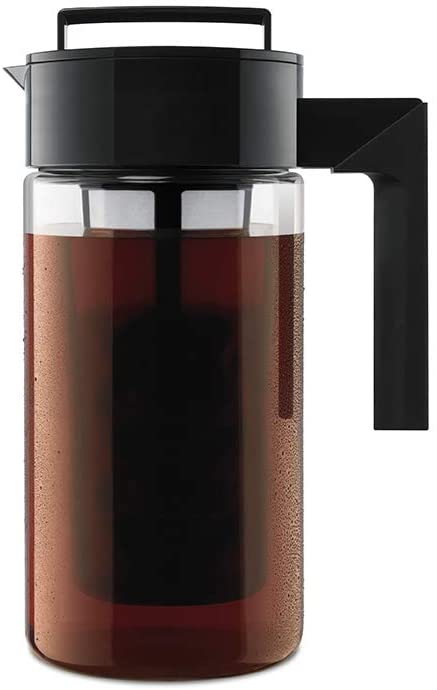 This Cold Brew is a certified tested BPA-free coffee maker that possesses a Tritan pitcher with an airtight lid and a silicon-free handle for safe use. The unique feature of the product lies in its environment-friendly approach to the process of brewing coffee.
You can enjoy cold and hot brewed coffee with this Takeya coffee maker. The air-tight lid helps you to retain the flavor of the brew and helps in retaining the temperature in the carafe.
It produces at least 4 servings of cold brew coffee which is perfect for a meeting between friends. It is perfectly suited for a small gathering. It reduces the acidity caused by traditional coffee as well as the bitterness caused by it.
No paper filter is needed for brewing the coffee. The excellent mesh coffee filter keeps the coffee grinds away from your coffee.
This coffee maker is BPA-free and helps one to be hydrated on the way with minimum damage to the environment. The design of the product is extremely sustainable and innovative. It has a great capacity of 32 ounces which helps you prepare a delicious cup of coffee for yourself and your friends.
10. GROSCHE Milano Stovetop Coffee Maker: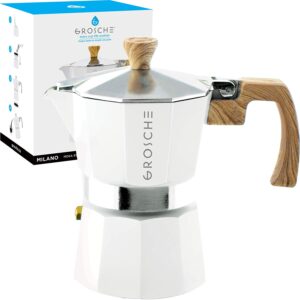 Are you a percolated coffee lover? Do you want to enjoy it daily? Then, this manual coffee maker is the best product for you. This product is far better and easier to use than the available electronic espresso coffee makers in the market.
It is available in different cup sizes and colors. You can choose according to your needs for coffee.
This coffee maker makes a great cup of Espresso coffee in one go. It is pretty easy to use and can be used on gases, stovetops, and camping stoves as well. This product is one of the best nonelectric coffee makers for camping.
The highest quality stove espresso can be made in the comfort of your own home using this product. It possesses a Made in Italy Safety valve system for maximum safety.
It also has a burn guard for the protection of your finger and hence is ideal for kids and nursing moms as well. The safety valve present in the product can be used to keep you safe from high pressure built up and the eventual breaking of the carafe.
With a silicone gasket and a Milano coffee pot, this product is set to steal your heart due to its unique and cool design. The product is extremely easy to detach and clean up due to its unique design.
Buying guide for the non-electric coffee maker
There are several types of coffee makers available in the market. So, choosing the right type of coffee maker is a very difficult choice and is utterly frustrating without a proper guiding manual. So, before buying the best product you must consult a Buying Guide to go for the right choice. We are here to guide you in this respect. We will help you choose the product which is best suited for you.
Things to consider before buying
1. Brew Capacity
There are coffee makers that can brew a single cup of coffee as well as a family-sized carafe of coffee according to your coffee needs. Some products offer a large range of brew sizes whereas some products offer rather a very small and narrow range of options for your needs. If you are a bachelor who lives alone or maybe a family of only two people the product best suited for you would be the one with a narrower option range. If you are a person who lives with a large family you can opt for the big-sized carafe which brews a lot of coffee at a go.
You can also have family members who wake up at different times. For their special needs, you need to choose a product that offers a variety of brew sizes and is a bit flexible according to each person's needs. For large gatherings and parties, you will need a brew size that will produce at least 10 to 12 cups of coffee at a go to meet the needs of the guests. For large parties, you will definitely need commercial-sized brewers that can provide enough coffee to your guests.
2. Brewing Frequency or Timing
The capacity of a machine is not exactly limited to the quantity of coffee it prepares at one go. It must also have the capacity to brew coffee multiple times a day to meet the needs of the people using it. There must be a temperature-retaining quality in the coffee maker itself to keep the coffee warm for a long time.
If you stay with such people who like to have coffee throughout the day then the best choice for you would be the thermal carafe as that will keep the coffee warm throughout the day. If the people around you love to have coffee only during the morning then a glass brewer with a morning plate is the best choice for you. People who don't have time in the morning should choose a pod machine.
3. Flavor and Richness
There is a high possibility that you and your family members will not be on the same page when it comes to the flavor and strength of the coffee you are brewing. In this scenario, you must choose a coffee maker which lets you change the brewing preferences according to your customized needs. You can make a stronger cup as well as a lighter cup of coffee in the very same machine.
4. Ease of Maintenance
Your coffee maker must be well maintained for your own health and hygiene purposes. The calcium build-up can decrease the life of your coffee maker and affect the quality of your morning coffee over time. To avoid this always choose products which are dishwasher safe or simple to clean by hand. This will reduce your effort and help you to increase the longevity of your product.
5. Size of the product
This factor does not have any effect on the flavor or taste of the coffee but there can be a crunch in space if your coffee maker is huge in size. It won't fit in your kitchen and it would look awkward elsewhere. If you are a fan of single-serve machines the best option would be to buy an AeroPress coffee maker which is portable, durable, and compatible to suit your needs.
FAQs
Is there a way to make coffee without electricity?
Ans: The answer to your question is a big 'yes. There are multiple coffee makers that use no electricity to brew coffee. Electric coffee makers are rather expensive, nonportable, and not cost-effective in terms of electric consumption. The only choice in this scenario is to choose a nonelectric coffee maker which will provide you with the best coffee. You can go camping, driving, and even on an outing with a non-electric coffee maker. Given down below is a list of coffee makers which you can use without electricity:
1. The French Press or the Classic coffee maker
2. Stovetop Moka Pot
3. Spanish Coffee Colador
4. Porcelain Coffee Filter Holder
5. Vietnamese Ca Phe
What can I use instead of a French press?
Ans: The best alternatives to use instead of the traditional French press are the AeroPress and Clever Dripper. They produce coffee as good as the French Press and maybe even better. Both of these machines are very simple to clean, easy to use, comparatively unbreakable, and portable, and can produce various types of coffee. As per the latest research, it is proven that drinking five cups of coffee from the French Press every day over a span of weeks can increase blood cholesterol levels by 6 to 8 percent.
To avoid this you can choose AeroPress which is comparatively safer and easier to use. Plus the AeroPress coffee makers are much easier to carry as they weigh less than the French press coffee makers and are quite ideal for camping or traveling purposes. It can also be cleaned easily without any hassle due to its unique and exclusive design.
What happens if you don't filter coffee?
Ans: If you are a fan of boiled unfiltered coffee here's bad news for you. Studies show that unfiltered coffee has more chance of increasing your blood cholesterol level rather than filter coffee. On the other hand, if you love filter coffee you will not experience any discomfort unless you are extremely sensitive to the higher caffeine levels in it. In this scenario, you can switch to unfiltered boiled coffee. Excess of both coffee can be harmful to your health in different ways. So, choose judiciously and consume coffee in moderate amounts.
Conclusion:
There is a wide range of coffee makers available in the market out of which you need to make a judicious choice as to which one to purchase. Hope we were able to clear your doubts about the best nonelectric coffee makers available in the market. Next time you are in doubt about a large number of options present at your disposal consult this article and make a judicious choice rather than regretting later. Don't worry at all, we've got you covered! You will definitely find your tailor-made coffee maker after giving this article a thorough read.
Also, check this- what can be put under the coffee maker?