Best 20 gifts for coffee lovers under $20 in 2023
If you have a coffee addict on your Christmas gift list, then you are in the right place. I want to welcome you to our exciting collection of gifts for coffee lovers under $20.Buying a gift for someone is not an easy task, as it takes a lot of thinking behind it.
There are numerous fascinating and expensive gifts for coffee lovers present in the market. But what matters for coffee aficionados most is the thought behind it. As their life revolves around this drink and they are always excited to have new experiments with their drink.
A luxurious setup of a coffee station is the fantasy for any coffee lover. From experimenting with the rarest coffee beans to various coffee accessories is a priceless experience for them. We've compiled a list of inexpensive but precious presents for coffee enthusiasts under $20.
You could choose a gift for your loved one from the list of 20 gifts for coffee lovers. We have explained the thoughts behind every product and why that could be an excellent gift. When you will reach the last section of the article, there we have a surprise for you. So, don't forget to look through the section as well.
Our Top Pick of 20 gifts for coffee lovers under $20
1. Disney Mickey Mouse Mug Warmer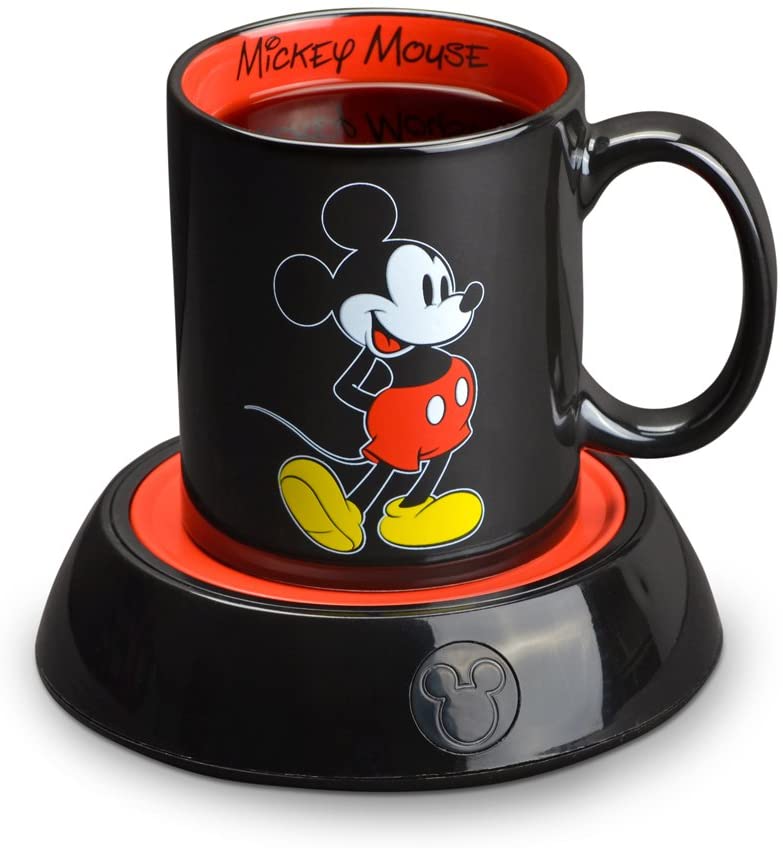 Simple but, yet useful Mug warmer is the first enlisted product in our list of gifts for coffee lovers under $20 in 2023. When we feel tired at our desks and need a fresh cup of piping hot coffee, it's annoying to sit up and make our cup.
Whether sitting with your ready cup on a mug warmer is more pleasant, so we can sip anytime we want. This Disney Mickey Mouse Mug warmer is easy to use with the one-touch to mickey button. It keeps your coffee hot for a longer period.
Surprisingly a cute-looking Mickey cup of 10 Ounces comes with it, but it easily keeps other wider cups hot as well. According to the users, this little device will stay for years. The extended cord makes it easier to sit anywhere in the room. It could be an excellent gift for office workers and students.
If the person loves Mickey Mouse in addition, it will add an extra point to your gift. Because the warmer does not have an auto shut-off feature, the user must take care to turn off the switch.
What makes it a precious gift
It's a cute little cup warmer set
The user will regularly stay connected with it
It Can be used anywhere
---
2. Bodum Pour Over Coffee Maker with cork band
What an incredible gift it is for a coffee enthusiast! A pour-over coffee maker, that extracts every hidden aromatic oil and unfolds the subtle flavors of coffee beans. Having such a coffee maker is an asset for coffee lovers.
In our machinery world, having a classic experience when putting up your cup in the morning and spending some time brewing is fantastic. Bodum Pour-over coffee maker comes with stainless steel, durable, dishwasher-safe permanent filter. Now, no more mess with paper filters and sacrifice of taste.
This coffee maker is simple to process and maintain. It makes 8 cups of 4 Oz coffee. The only vital part of the processing is to be gentle and slow while pouring the hot water in a circular motion over the coarse coffee grounds.
The borosilicate coffee pot is heat-resistant and sturdy. You can choose between the cork band or silicon band with this pour-over. Both of them are good enough to protect holding the hot glass carafe. You can also check other non-electric coffee makers like this pour-over.
What makes it a precious gift
It is an elegant feeling for any coffee lover to have a pour-over coffee maker
The easy and natural process of brewing
Perfect for single usage
---
3. Voyager Insulated Travel Mug Tumbler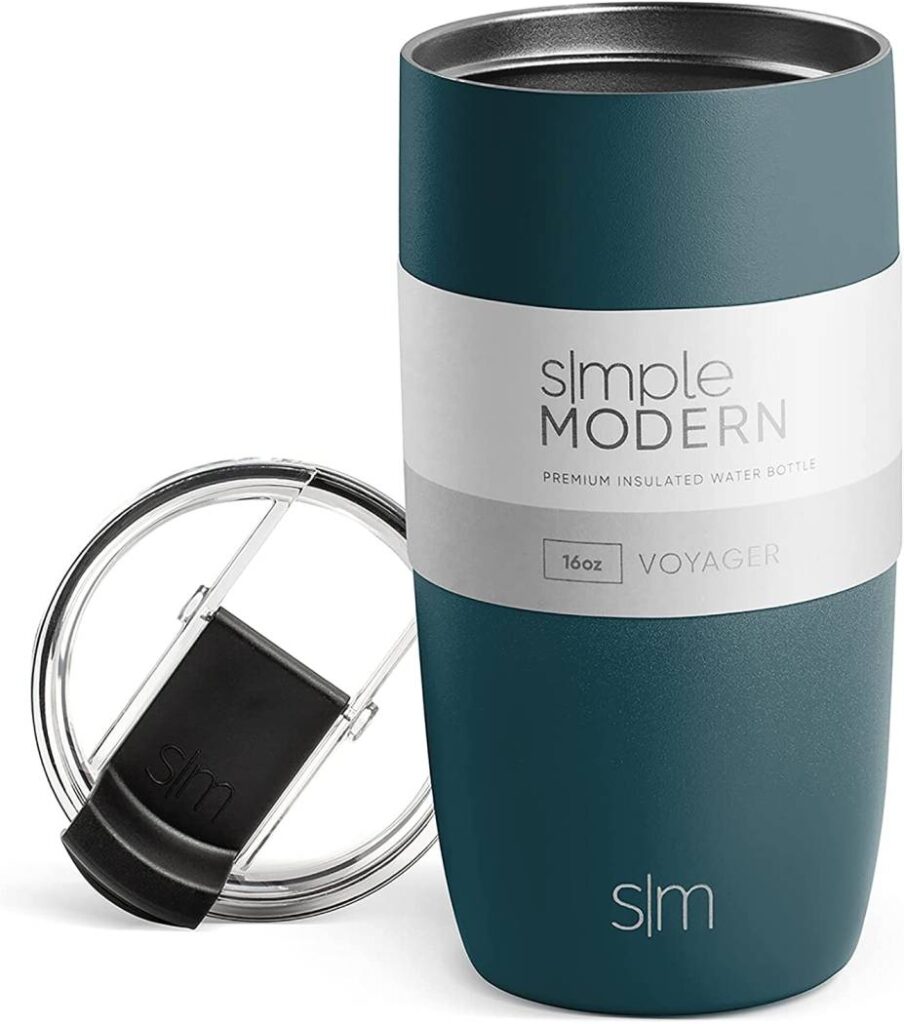 If your friend is a travel enthusiast and a coffee addict, what else could be a great gift rather than a travel Mug? The Travel Mug from Voyager is designed to match the lifestyle of a modern person. It has a sleek design that will fit in any car holder or travel bag and comes in a variety of vivid colors.
This 16 Oz travel mug as a gift for coffee lovers under $20 keeps your beverage hot or cool for hours. Coffee in this mug remains hot for up to 4 hours. It is double-walled and has premium quality vacuum-sealed insulation. The copper-coated interior prevents sweating so no worry for water rings on the table.
If you are a hot coffee drinker it will add value to your life. You will enjoy your drink on road trips, on office journeys, etc. Once you shut the twist-on leak-proof clear flip lid, everything remains warm. The reusable straws are BPA-free that maintain the hygiene of the drink.
What makes it a precious gift
On a road trip, satisfy your thirst for a hot beverage
Provides a sleek and smart look
Keep your beverage hot for 4 hours and cold for up to 16 hours.
---
4. Zulay Original Milk Frother
With this mini handful gadget, enjoy your latte without a trip to Starbucks. It's my one of favorite proficient gifts for coffee lovers under $20. Zulay Original Milk Frother is highly rated and customers are crazy about its quick result.
Creamy froth is ready in one touch on the 'on' button. It gives a professional touch to your homemade latte, cappuccino, macchiato, or hot chocolate. The brand only uses trusted and proven quality materials that ensure its durability.
This small frother makes creamy foam with any kind of milk- half and half, creamer, almond, soy, cashew, whole milk, hazelnut, and other dairy products such as butter or cream.
Easy to clean and store. It comes with a metal stand that complements other coffee accessories. It has a convenient lifetime warranty. It even works better than a regular matcha whisk and blender, making it perfect for preparing tea and milkshakes.
What makes it a precious gift
Have your favorite elegant coffee flavor at home without the hassle
Powered by double AA batteries
Lifetime warranty
---
5. Hamilton Beach Electric Coffee Grinder
Are you searching for eminent gifts for coffee lovers under $20? So this Electric Coffee Grinder is for you. Professionals say if you want the most out of your coffee then brew your coffee from fresh coffee beans. To do so there is no other way except having a Burr Grinder.
They could be incredibly expensive, but thanks to the Hamilton Beach Electric Coffee Grinder, enjoying fresh coffee is no longer ridiculously expensive.
It says this electric grinder is quieter than the other competitive grinders in the market. So it provides a peaceful environment even you use this in the morning or at night. It has a meaningful capacity of 9 tablespoons of coffee beans which is enough for 12 cups of coffee.
I love the gadget because it falls apart. The chamber is detachable so it's easy to put coffee beans or spices and just clean it with a damp cloth. The stainless steel durable blades grind beans and spices well. From the hidden compartment pull out the cord when in use, and the rest of the time, this device won't take much place in your kitchen.
What makes it a precious gift
With this, your friend will have fresh coffee every day
It's a must-have coffee accessory for a pleasant taste
Durable, priceworthy and don't make much sound while grinding
6. Primula Stovetop Moka Pot for classic Italian Brewing
Of course! you can have your espresso shots from expensive coffee shops. But having equipment ready for your americano, espresso, or affogatos at home is incomparable.
An expensive espresso machine takes up an extra place in the kitchen. on the other hand, a Moka Pot is a more compact fit. Hence brewing espresso, it might be a great present for students or those with small kitchens.
Primula Stovetop Moka Pot serves 6 cups of delicious, rich espresso. This easy-to-operate Moka pot takes care of safety as well. The handle is heat-resistant for easy pouring, has a heat-resistant top knob and, the safety valve maintains the water pressure.
The ergonomic design distributes the aroma and flavor of coffee beans evenly for better taste. The stove is crafted with an aluminum cast durable enough for long-lasting usage. Have your amazing joy when the coffee percolates from the Moka pot in just 4 steps processing
What makes it a precious gift
Have the old-school, piping hot of larger cups
Easy to use and clean
Provides safety and equal heat distribution for an awesome taste
---
7. Boscare Mini Drip Coffee Maker
A drip coffee maker seems to be a simple gift. But believe me, a personalized mini coffee for a coffee addict is a blessing. Having it in your office room or study room for a quick thirst is best. Boscare Mini drip coffee maker is the best coffee maker to play the role. It makes this one of the best gifts for coffee lovers under $20.
It's a 4 cup coffee maker with a permanent filter. That means it saves the waste of leftover coffee and the price of paper filters. Extremely easy to use just with a click on the 'On' button. It keeps your coffee warm until you press the 'Off' button. It is a great deal at this price, where you are getting boil dry protection that automatically stops brewing while running short of water.
With a visible water window, permanent filter, and detachable parts, you will have a completely hassle-free experience. Last but not least, though it takes 4-5 minutes to complete the brew, it has the bonus feature of 30s pause and grab a cup.
What makes it a precious gift
Fulfill the everyday need of a coffee addict
Mini coffee maker with maximum features
Sturdy coffee machine with a dishwasher-safe carafe
---
8. Primula Burke Deluxe Cold Brew Iced Coffee Maker
We all love the richer flavor of smooth blended iced coffee. Visiting a coffee shop for this might be the first option in our head. But why not try it at home? This brewing method is 65% less acidic than the traditional hot brewing methods. For healthier and more flavorful coffee makes it a perfect gift for any novice or coffee addict.
Elegant design with a compact size that fits into every refrigerator. The Borosilicate pitcher is temperature resistant and durable. Dishwasher-safe parts make this a super-convenient device for hassle-free cleaning. It makes up to 6 cups of coffee at one go. It's much more affordable than any coffee shop.
It requires 24 hours to brew tasty, fuller coffee. Add freshly roasted, coarse coffee beans to the removable mesh filter. Wet the coffee grounds and fill the jar with water. Give it to rest for 24 hours in your refrigerator and the next day enjoy iced coffee with milk, creamer, or your favorite syrups.
What makes it a precious gift
Makes expensive cold coffee at an affordable price
Enjoy more rich, smooth, and mellow coffee than hot brewed
All parts are sturdy with excellent design
---
9. TZSSP Coffee Ceramic Mug
We always enjoy our morning beverages in our favorite cup. I know, cups essentially have nothing to do with the taste. But who else doesn't wanna have their favorite cup with their favorite beverage?
This ceramic floral printed mug is a perfect pair for morning coffee. The delightful design automatically drags your attention. It's appropriate for regular usage and for traveling as well. It is microwave, oven, and dishwasher safe. That means total lifesaver. If your coffee cools, you can reheat it with this mug at any moment.
The cup is handmade and the innovative techniques in design make the rims and edge super smooth. The black lid has food-grade silicon. Remove the lid before putting it into the microwave. It's one of the most appealing gifts for coffee lovers under $20 with a matching box.
What makes it a precious gift
Natural, esthetic design that blows the mind
Perfect ceramic beverage holder
Dishwasher, and microwave safe
---
10. Bone Cup Tie, Portable cup holder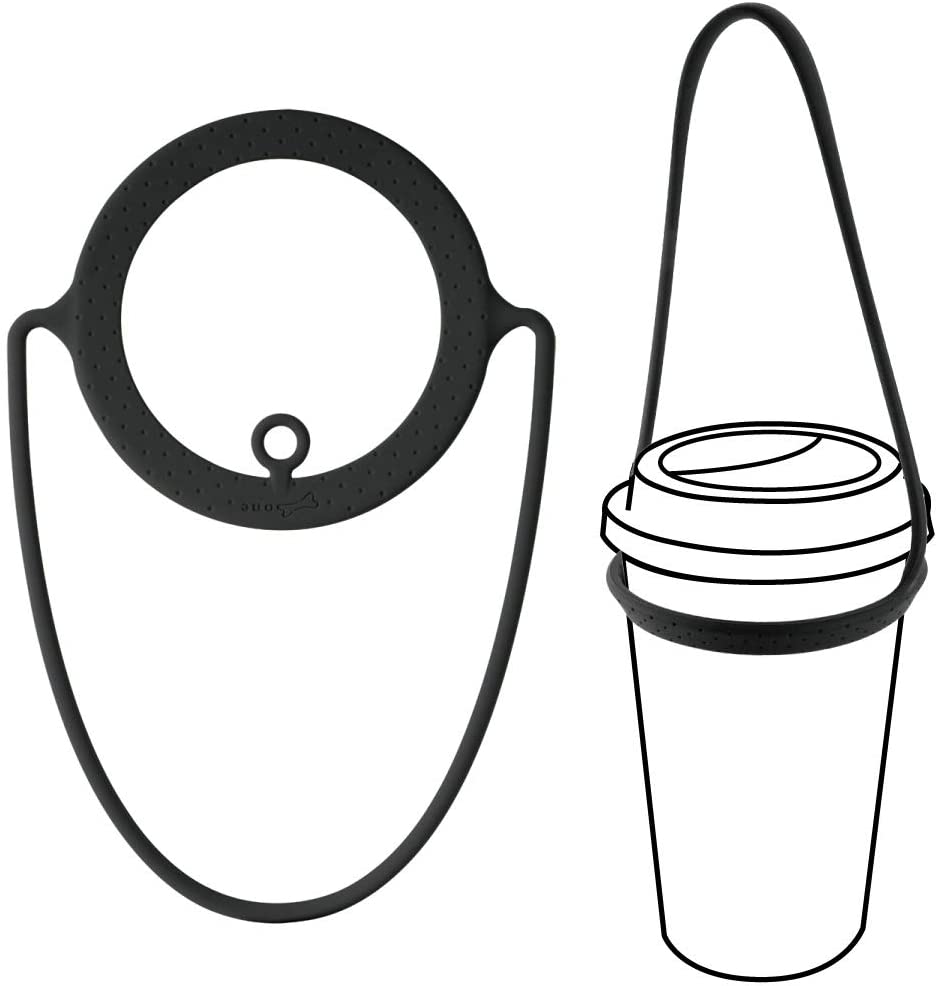 It is one of the minimalist gifts for coffee lovers under $20. Outside one trouble, they often face is after buying a cup, traveling while holding the hot cup is disgusting. However, having a bulky cup holder does not provide any relief as well. There comes the role of the innovative bone cup tie. It is a silicone reusable cup carrier.
It is a minimalist cup holder that fits any size of cup including the standard Starbucks cups. Now you can hang your cup on your elbow, hand, or from your bike handle while walking, or traveling. Put this band on your purse and use it whenever you need it.
It has an integrated straw holder for placing your straws. The silicone material is of high quality, providing a soothing touch and it prevents slippage from sweaty palms. The material is eco-friendly.
What makes it a precious gift
Gives free-hand experience while walking and traveling
It favorable for everyday usage and keeps stains away
Premium quality silicone material with an exclusive design
---
11. PANCHH Rustic Farmhouse SandStone and cork Coasters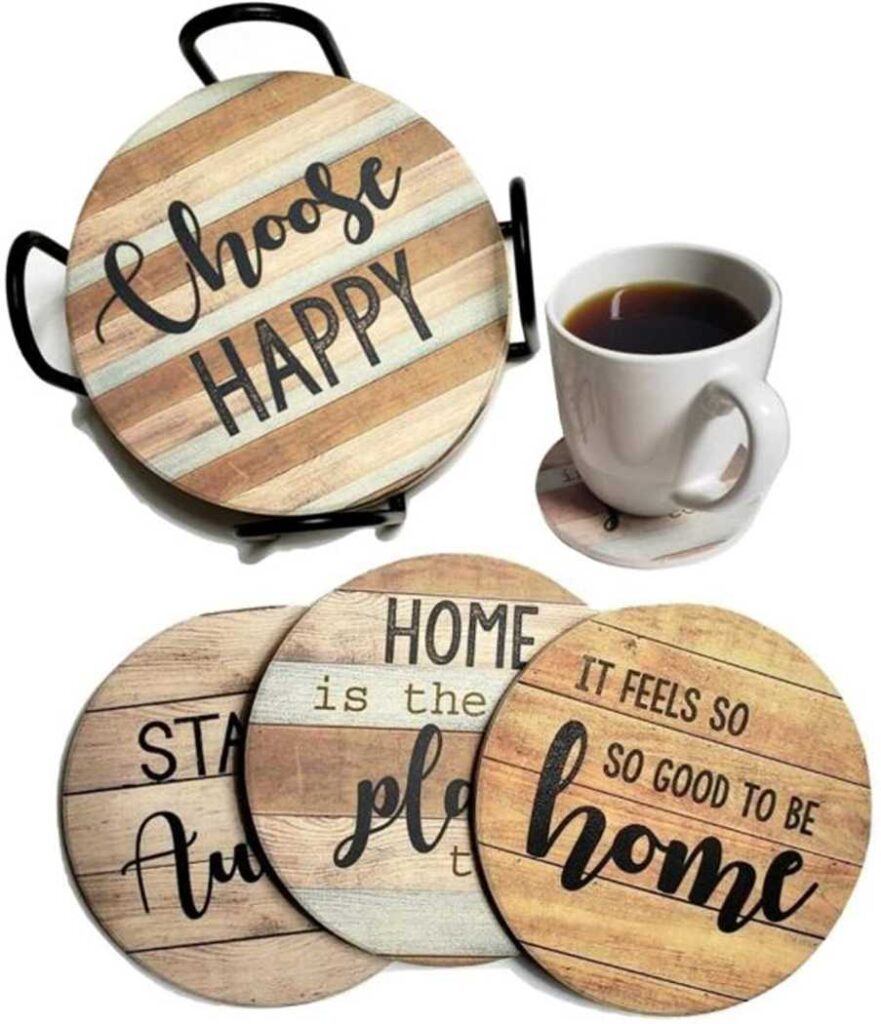 It's a beautiful decorative gift for clients, birthday parties, home parties, or as a home decor gift. This farmhouse coaster set of 6 is water absorbent and you can place them on a coffee table, or in your living room. The backside of the coasters is a non-scratch surface so place them on any table.
Sandstone absorbs liquid and moisture quickly. Therefore, Your favorite beverage, hot or cold, will no longer leave water rings on the table. Each coaster has a unique scripture or phrase that creates a calming sense in your head; it feels nice whenever you see nice. With this set, a black-colored holder comes so your coasters will be arranged and, you can use them to decorate your kitchen as well.
The colors of the coasters are also relaxing as 2 are white, 2 are brown and the other two come in a combination of blue and brown. If you like them don't hesitate to own them as we all want a relaxing partner with coffee.
What makes it a precious gift
Keeps tables and countertops clean from annoying water rings and spillage
A relaxing decorative but useful thing to own
All scriptures on it touch the heart
---
12. Digital Coffee Scale with Timer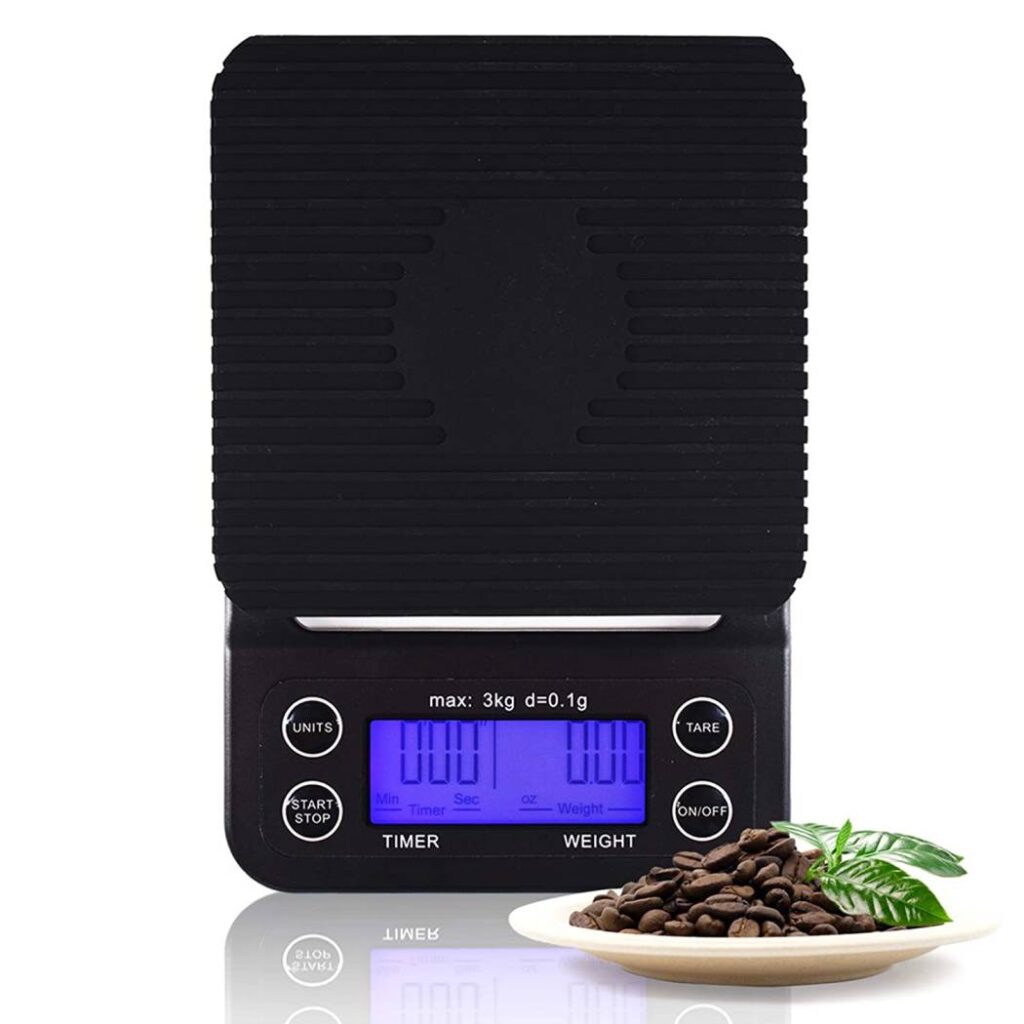 For making an ideal cup of coffee the all-time secret mantra is a precise amount of coffee ground and accurate brewing time. Having a scale with a timer never disappoints you from having your perfect taste. If you like to make your coffee in the morning with a french press or pour-over coffee maker, then it is a perfect accessory to add on.
It provides high-quality measurement precision in five different units (OZ, LB, G, ML, and G/ML). The high-precision sensors can measure from 0.1 oz /1 g to 3000g/ml. The trade function allows you to weigh the minimum ingredients and liquid inside any pot without measuring the bowl.
The LCD display provides a crystal clear vision to see the measurements. Brew your french press coffee or pour it over with its reliable alarm function. You can set the timer between 3 to 8 minutes. The anti-slip thermal insulation mat avoids scratching tray burns and accidental slip.
What makes it a precious gift
Ensures the professional cup every day
The precise sensors measure minimum ingredients as well
Measures in 5 multiple units.
It's a multi-functional kitchen gadget
---
13. Coffee shirt for women
It's always a precious feeling to exhibit our love for something very close to our hearts. When a coffee lover gets a gift of a coffee shirt, it blows their mind. It could become the expression of their feelings and they get to know how much you care for them. So for your coffee-addicted better half, choose it as the best gift for coffee lovers under $20.
This short-sleeve coffee shirt from Lotucy is available in a huge range of colors with the lettering of ' Coffee is always a good idea. The lettering is key to establishing a connection with coffee fanatics since every time we get stuck in a bad situation, we go for coffee.
The fabric quality is excellent and comfortable, and printing is fine. One can pair this casual top with jeans, skirts, and trousers. The sleeves are foldable, so you can style them on your way and go shopping or on road walks.
What makes it a precious gift
It provides a touchy feeling for coffee
High-quality, comfortable, stylish casual shirt
The hand lettering exude the feminine charm
---
14. Coffee and Java Maker Mat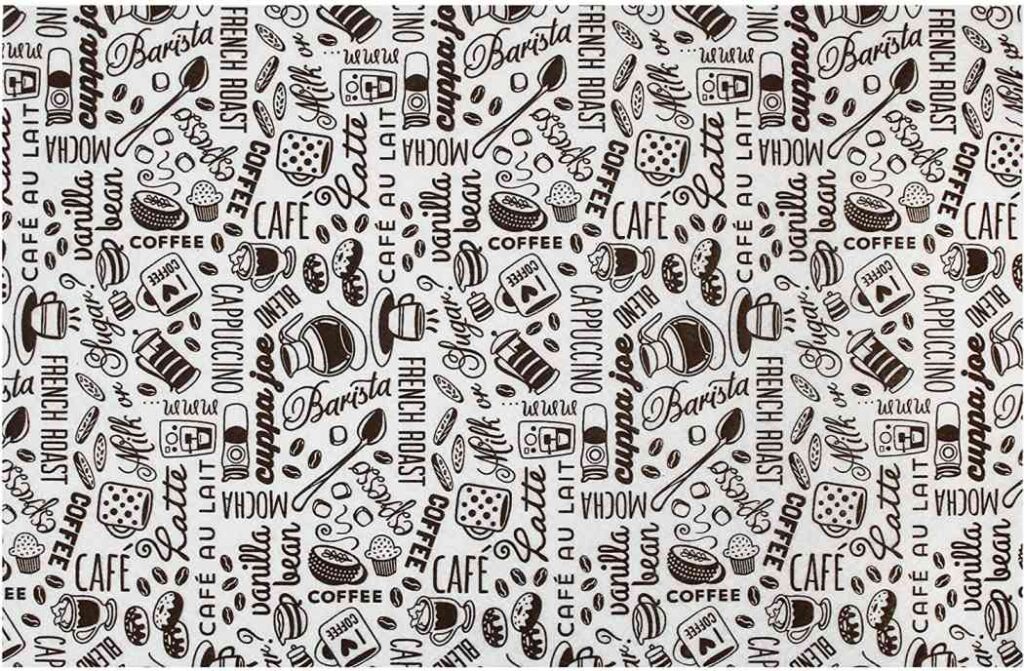 A coffee maker mat as gifts for coffee lovers under $20 is a very practical and appropriate choice. This Java maker mat has a cute coffee typography pattern that can win any coffee addict's heart.
It is a 12'x 18' mat, you can use this underneath your coffee maker, on the serving trays, and on coffee tables as well. It absorbs the coffee spillage and overflowing water quickly and saves you from ruining the kitchen. This mat glides smoothly so moving your coffee maker for water filling on this is handy.
It is a multipurpose mat because it is trimmable, you can adjust it in whatever place you want to. I must say, this bean pattern mat is a beautiful decorative accessory at a coffee station to have for a coffee lover. Use it anywhere and regularly and when it gets dirty, through it with your other laundry with the machine for washing. You can check the review of other mats in detail.
What makes it a precious gift
Saves your kitchen counter from coffee spills and scratches.
Adds a charm at your coffee station.
Trimmable and machine washable.
---
15. Craft Coffee: Brewing a Better Cup at Home A Manual Guide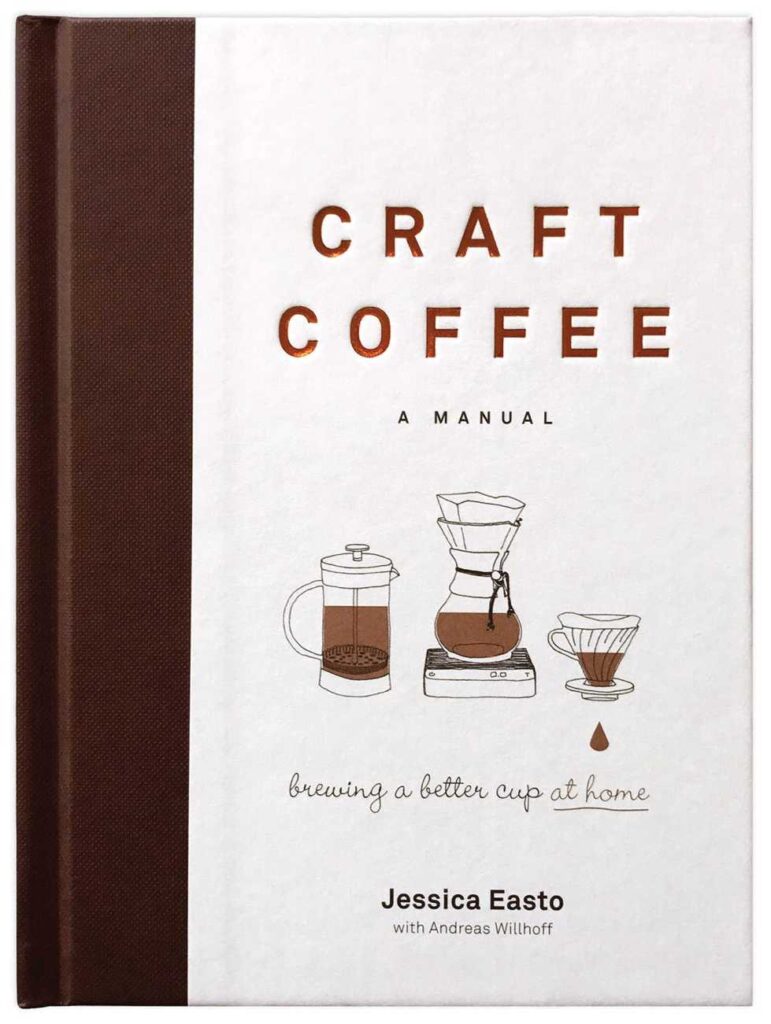 Coffee enthusiast and a book lover what a fantastic combination of characteristics. Making professional quality coffee at home for a novice could be daunting. And especially in today's world with the contrasting information available on here and there it's more tricky.
Craft coffee is a comprehensive book guide by a coffee enthusiast for coffee lovers. Unlike other books, this book specifically focuses on brewing coffee, not espresso. A detailed guide to making coffee with pour-over, immersion, and cod-brew techniques with 10 different devices.
Professional tips and tricks are mentioned with illustrations to avoid common mistakes in brewing techniques. This book contains manual guides for brewing devices such as the French press, Aero press, Siphon, V6, and others.
The thing I like most about this book is the creative guide on coffee beans. We lack what coffee we should buy according to our taste and this book is going to solve this problem. It has a dedicated section for the origin of coffee beans and what should be your choice.
What makes it a precious gift
For a coffee lover reading, this book with their cup of joy is a heavily feeling
Detailed coverage about the brewing process, coffee beans, and types of equipment
Easy-to-follow instructions at home.
---
16. Quan Jewelry Cute Coffee Necklace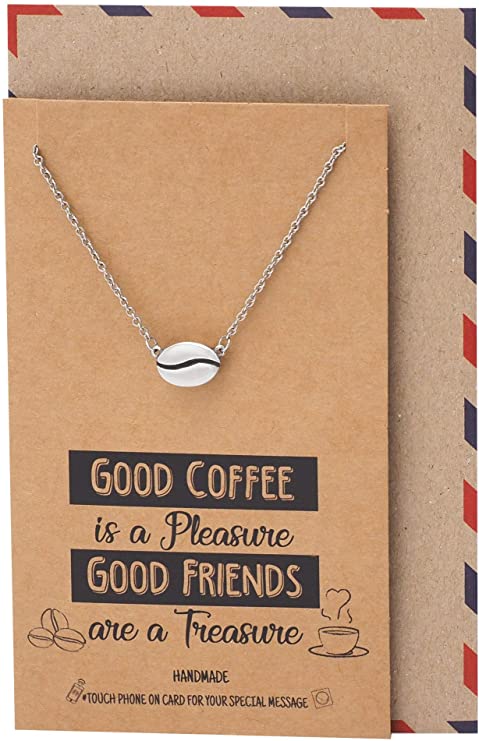 This is the time to tell your friend, wife, sister, mom, or grandma how much they matter to you. This handcrafted jewelry with a coffee bean pendant could be a perfect emotional gift on their birthday, Easter, anniversary, or Christmas.
The pendant is made with high-quality pewter and the stainless steel chain is adjustable. The chain is known for its durability and non-tarnishing quality. It is minimal dainty cute casual jewelry that goes with any outfit. So every time they wear this will remind you.
It is ready to give a gift package because it comes with a gift card crafted with the beautiful quote 'Coffee is a pleasure and Good friends are a treasure'. No need to buy or make another card. The bean pendant with the coffee quote will make the day for the coffee lover.
What makes it a precious gift
Creative packaging that is able to express the emotion of the present
Adjustable and durable nickel-free stainless steel chain
An inspirational quote on the gift card
---
17. Apexstone Coffee Tamper
A coffee Tamper can be considered a gift for espresso lovers. This Apexstone coffee tamper is extremely heavy and nicely tamped your coffee beans. The built quality is great, as it is made of solid iron with chrome coating. You can use it for years because it is rust-free and corrosive.
For a barista, it is a lovely gift. The durable coffee tamper compresses the coffee beans firmly, a piece of perfect equipment to tamp your coffee beans just before brewing the espresso. Wash it by hand using mild soap. No need to scrub it hard.
What makes it a precious gift
A heavy solid coffee tamper
Not cheaply made and provides value for money
Non-rust and corrosive.
---
18. Coffee Cup Silhouette Metal Decorative Wall Art
For decorating the kitchen or dining wall instead of using posters or prints, making a sculpture wall art the center of attraction is a way better option. So you can be the first one to give this coffee cup decorative wall art to your coffee-fanatic friend. It's one of the great gifts for coffee lovers under $20.
It is a vintage design of stacked coffee cups on tea plates with a modern touch of cartoonish steam on the peak. The color and style of the artwork effortlessly blend with any bright or neutral tones of the wall. You can also decorate it with other coffee wall art, it flaunts a cohesive look.
It is not only a home decor accessory but could be a warm welcoming decoration in front of your restaurant, or shop. It gives a playful look that makes it perfect for interior rooms to outdoor areas. The approximate size of the wall art is 15″ H x 8″ W. It is a thin metal wall art, therefore not bulky.
What makes it a precious gift
A warming, enthusiastic gift for coffee lovers
Looks great alone on the wall and blends easily with other art as well
Good quality artwork
---
19. Majestic Pure Arabica Coffee Scrub
For a beauty-conscious person adding this Pure Arabica Coffee scrub to their skincare regime is a great concise. This coffee scrub has a strong odor of coffee that sticks even after washing your skin. What kind of coffee addict would not like that?
Coffee is beneficial for our skin to removing dead skin, and rejuvenate our glow. It is also effective for stretch marks, acne, cellulite, eczema, spider veins, and other skin conditions. It is made from pure caffeine from the best arabica beans, exfoliating sea salt, and a variety of hydrating organic oils such as grape seed oil and olive oil.
Be gentle with this strong scrub on your skin. In weeks, you can see the results with your blackheads, whiteheads, and skin blemishes. It naturally exfoliates the skin tissues and leaves an oil layer of nourishment. Apart from the body, it can be used for sensitive parts like the face and lips.
What makes it a precious gift
A perfect skincare regime for a coffee lover
Reduce the problem of cellulite, eczema, spider veins and age spots, varicose veins
Removes the dead skin cells to rejuvenate the skin
---
20. Starbucks Variety Syrup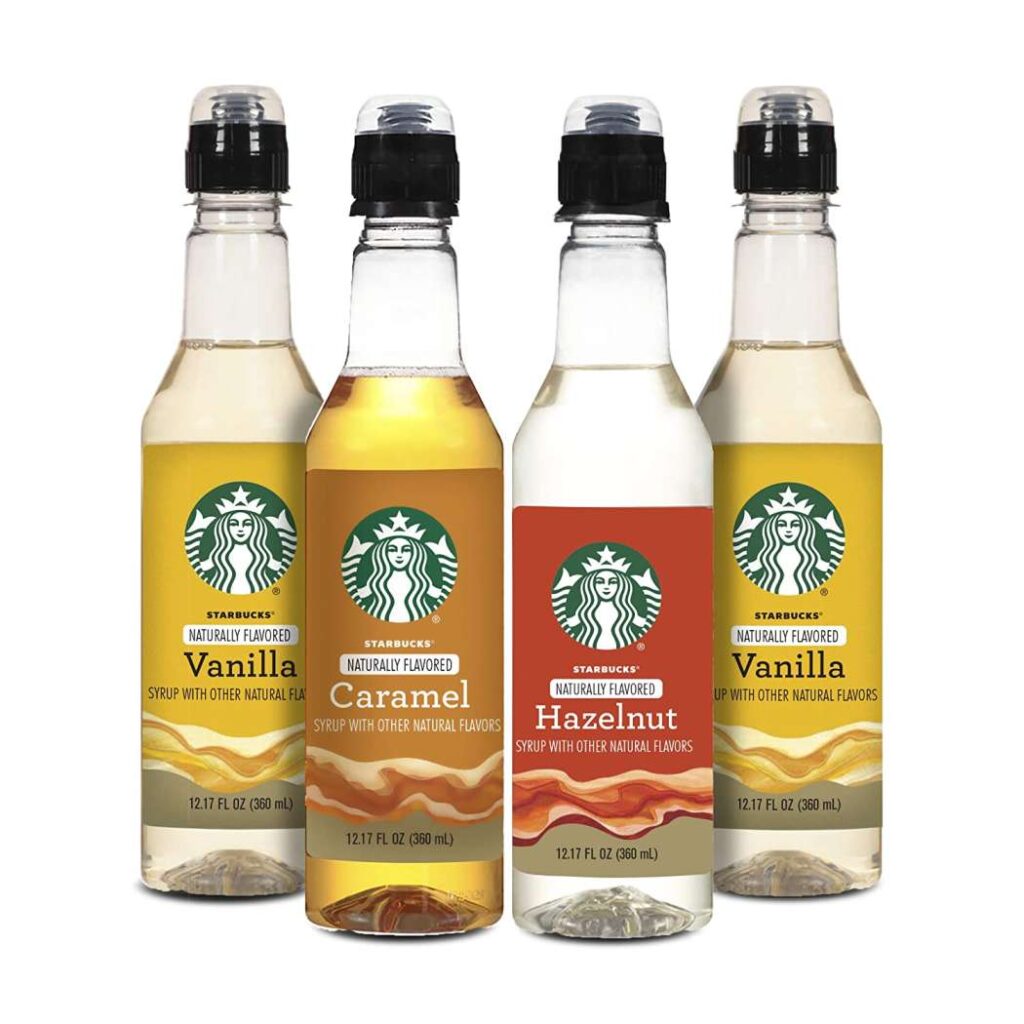 For coffee lovers, trips to Starbucks coffee shops are like their next home. What if you can present them with little flavors of it! This Starbucks syrup set highly recommend gifts for coffee lovers under $20. The flavor of these syrups tastes exactly like Starbucks coffee.
You will receive one bottle of vanilla, one of caramel, and one of hazelnut in this bundle. One to two splashes of syrup elevate your morning drink. They are suitable for a wide range of drinks like lattes, macchiatos, iced coffee, or milkshake, and hot chocolate. Add your favorite flavor to your beverage to add a personal touch.
The Vanilla syrup has a naturally sweeter and rich taste, it's the best way to sweeten your drink. Whether the caramel one has a more smooth and buttery flavor, and the Hazelnut syrup adds a rich and nutty flavor to your coffee.
What makes it a precious gift
Perfect pair for personalized coffee
For Starbucks, it could be the best gift
Three flavors, in one set hazelnut, vanilla, and caramel
---
How to choose gifts for coffee lovers under $20?
As I promised in the beginning, here are your bonus tips. Coffee enthusiasts are very fond of their coffee makers and coffee accessories. So choosing the right one as a perfect gift for them is not an easy task.
Some of them may have expensive collections of coffee products. In that instance, you must be cautious not to give them a gift that they already own.
That's why a keen inspection of their houses would be a subtle step. As a result, when you present them with an accessory that they may already want to add to their collection, you will win their heart. A beautiful gift can make your friendship firm forever.
On top of that, think about which kind of coffee your friend likes most, that your gift could add value to that cup, or suppose you are gifting them coasters what design or color they might like. Now you are ready to bring a smile to their face.
Our last words
Caffeine is an obsession, and whether they are in our good phase or it's a bad day, a nice cup of coffee is an integral part of everything. From a little accessory to fancy coffee equipment, all play a crucial role in their day-to-day life. That's why it's a tricky task to choose gifts for coffee lovers under $20.
But we believe our listing of presents for them has been helpful for you and you have chosen your perfect gift. So, don't forget to leave a comment indicating which of the above-mentioned gifts you prefer. On top of that which gift you have picked and for whom.