Sliding Tray for Coffee Maker- Top 8 Best Trays
The start of a beautiful day does not happen without a brilliant cup of steaming hot coffee. For this purpose, one needs to opt for a good-quality coffee maker. But every day in the morning moving your coffee maker absorbs your all energy and you feel the need for a helpful hand.
Only a coffee maker would not suffice in this scenario. We also need to find a suitable tray to put under coffee maker in order to make our life easy. A sliding tray for coffee maker aids in the sliding of bulky and heavy coffee makers. This is nearly impossible to do without the help of a proper tray.
You might find available trays online very easily but among them, opting for the best and suitable one for your kitchen is tricky. It's time-consuming work that I have done already for you. I have researched and come up with the Top 8 best-rated sliding trays for coffee makers.
While researching I have found different problems in the kitchen without sliding trays. And I got to know if you find the wrong one, then it will not fulfill the purpose. I have discussed why you should own this accessory for your coffee maker and listed the Top 8 trays to put under the coffee maker with a brief description.
Why you should use a Sliding tray under the coffee maker?
A sliding tray comes with a sliding shelf or moving wheels controlled by the lever for moving heavy appliances. This is an excellent kitchen accessory with a meaningful reason to use. The key reason for using a sliding tray for a coffee maker is easy movement.
But I would like to mention here 6 reasons why you should own a sliding tray in your kitchen, and it will make your life easier.
1. Moving will be no task
I am sure if you have a small kitchen or you place your coffee maker under the cabinet on the countertop. It's a hard task to move it every time to pour water for brewing.
But if you add this tray under your coffee maker, it will do the task for you. You just need to press the lever or whatever the processing function your tray has.
2. Utilize the dead corners
Coffee makers or other small appliances like toasters, blenders, air fryers, etc are not in use every time. But take a large amount of space on your countertop.
So, you can make more space on the counter by placing them into those dead corners of the kitchen with a sliding tray. Later drag them out easily when needed.
3. Resist scratches
If you place your espresso machines or coffee makers directly on the countertop, it will cause scratches while moving, or if it is in the same place for many days, it could stain the countertop. The tray wheels are smooth enough that they don't cause any kind of scratches. It is the simple solution for another common problem.
4. Organize and decorate your Kitchen
Especially the small appliances, when not in use, create clutter on the countertop and make it a mess. Arrange them on the trays to have a well-organized kitchen.
Most of the sliding trays for coffee maker works well with appliances like a toaster, food processor, blender, etc. So, even if you don't place a coffee maker on your slide-out tray, use it for other electric appliances because they are multi-use trays.
5. Saves your cabinet from steam warp
If your brewer place is under the cabinet, it must have created steam warps that look horrible. It is now easy to get rid of those because you're gonna brew your coffee under the cabinet.
Slide the coffee maker with the help of a coffee maker tray and, after brewing, keep it again underneath the cabinet.
6. Makes cleaning Easy
I know everyone wants to have a neat and clean kitchen. But the heavy appliances are the hurdle in this. I would suggest not only your coffee maker but to place all your electric appliances on sliding trays.
This step is very favorable to have a neat and clean kitchen because by moving the appliances cleaning of the countertop will be in ease.
---
Short Comparison of 8 best sliding tray for coffee makers:
Goldlion Appliance sliding Tray for Coffee maker

Material- Iron with non-slip silicon Pad Item Weight-
3.74 pounds

Dimension-16" W × 11.5" D × 0.9" H

The Nifty Medium Appliance Rolling Tray for Coffee Maker

Material- steel Iem weight- 1.65 pounds Dimension-16 x 10 x 1 inches

The EVERIE Appliances Tray for Coffee Maker

Material- Plastic with rubber coating

Dimension-14.2 x 11.3 x 2.2 inches

The Kitchen Caddy Sliding Tray for Coffee Maker

Material- ABS Capacity- 25 pounds Dimension-12"x8.7"x1.0"

Ihomepack Kitchen Caddy Sliding Tray for coffee maker

material- ABS Capacity- 30 lbs Dimension-12 x 8.9 x 1.3 inches

Copco coffee cab rolling tray for coffee machine

Material- Plastic Capacity- 1.1 pounds Dimension-9.5 x 11.75 x 1.25 inches

GAGAYA Handy Sliding Tray for Coffee Maker

material- ABS Product weight- 2.07 pounds Dimension- 12"x8.7"x1.0''

Handy Caddy Sliding Tray for coffee maker

Material-Plastic Product weight- 1.1 pounds Dimension- 8.7 x 1.2 x 13.5 inches
---
Are you in hurry? Then check out this!!
If you don't have enough time to read the whole article then go with our first product (1. Goldlion Appliance sliding tray for coffee maker). Because the tray has an extra-large surface with a width of 16.1 inches and a depth of 11.7 inches which is ideal for almost all coffee machines.
Moreover, it comes with a silicone mat covering that makes cleaning also easy. Additionally, silicone is good for heat-resistant capability. Overall this tray is durable and gives you great results!!
---
1. Goldlion Appliance sliding Tray for Coffee maker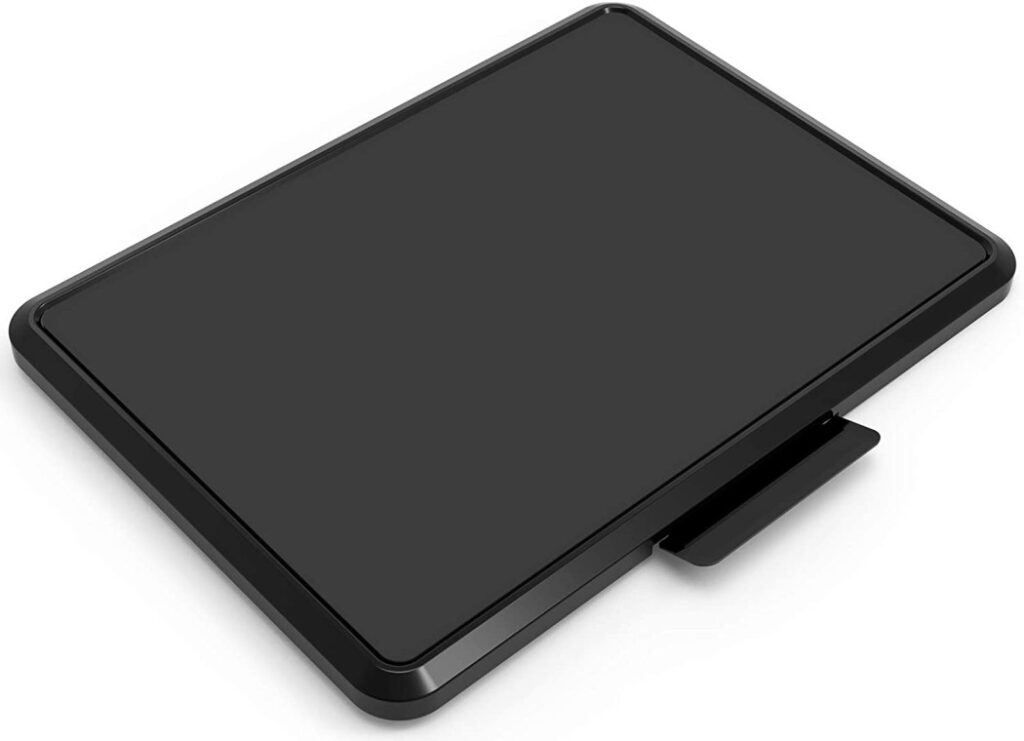 Are you tired now from lifting the heavy appliances of your kitchen and want a convenient solution? The Goldlion Appliance sliding tray for the coffee maker has been specifically designed for the easy movement of heavy coffee makers.
It has a convenient lever control system with an extra-large tray shelf to facilitate the smooth movement of the appliance. The coffee maker sliding tray is crafted with an extra-large surface of 16.1-inch width, with 11.7 inches of depth. This tray works best with larger and heavy kitchen gadgets like Keurig K-Cafe Coffee Makers and allied countertop appliances.
Goldlion's mission is to provide a big solution with little gadgets. It works brilliantly with other crucial supplements of the kitchen like Air Fryer and Ninja Foodi. Many people have bought this first as a sliding tray for coffee maker, but now they also use it under their Air Fryer. The reason is the silicone coating resists heat as well.
The tray has a low height which helps the easy movement of your appliance. It also leaves a considerable amount of space between the cabinet and the countertop for the appliance. It's the best extra large countertop appliance rolling tray.
The durable non-slip pad adds protection to your gadgets above it and saves them from any undesirable accident. Even the stubborn spills of food are easy to clean as well from the silicon surface. You must check this tray to put under coffee maker.
---
2. The Nifty Medium Appliance Rolling Tray for Coffee Maker
Nifty is a solution-based company for all our kitchen hassles and their products provide workable solutions. Their answer for your coffee machine is a fantastic tray to put under coffee maker with a realistic style.
The Nifty Medium Rolling Tray for coffee makers is a slide-out coffee maker tray ideally built for a small countertop. This facilitates the easy sliding of your appliances on the countertop.
The tray slides under the appliance more easily because of the integrated rolling system. It occupies a little amount of counter space, making it simpler to keep your necessities arranged.
The coffee maker tray comes with a unique non-slip mat pad to keep the coffee maker in its place and to prevent it from sliding down and breaking. The tray is made of steel that is hard to break and easy to clean.
I know this question may arise in your mind, what if you don't want to use this tray as a coffee accessory anymore? You can switch this accessory to other appliances like toasters, mixers, blenders, and more. The surface dimension is perfect for them as well.
The slider has two small legs at the bottom with non-slip pads on both. It ends your worry that it might slip from the countertop while using. It will be stuck in its position until you press the lever for lifting.
---
3. The EVERIE Appliances Tray for Coffee Maker
The EVERIE Appliances Tray is essentially devised for heavy appliances like bulky coffee makers and Espresso machines. This coffee maker tray is suitable for better movement of the Coffee machine on the countertop.
It aids one in keeping the countertop clean without any coffee stains and protects it from steam warps. Because the moving of the steaming appliances is easier now and the Cabinets won't be dirty any more. The large tray is ready to hold your K-cup coffee maker.
The ergonomic design of the coffee maker tray makes it easier to move it and the wheels do not conflict with the countertop. The rolling wheels are extremely durable and can hold a weight of up to 30 lbs.
Moving the heavy appliances in a small kitchen now is a work of pinching a button. When you press the button, it releases the brakes of the wheel and you can move it back and forth where you want.
The material of the slide out tray for the coffee maker is plastic and, the upper surface is rubber. The rubber is easy to clean and long-lasting material. The tray is amply wide and deep to aid the better movement of the bulky appliance.
In my opinion, the tray has durability, versatile usage, large enough to keep many appliances, and is user-friendly. Having all desired features in a tray makes it a perfect gift for your mom or grandmother.
---
4. The Kitchen Caddy Sliding Tray for Coffee Maker
The Kitchen Caddy Sliding Tray for Coffee Maker is made of durable material especially for super sturdy usage for very heavy coffee makers. The building material is ABS material which is exclusively toxic-free and BPA-free.
This coffee maker tray can be used effortlessly without scratching your countertop. The wheels are extra smooth and slide conveniently. Simply slide out the tray when you need it and put your coffee maker on it. Then slide it back when not needed.
This tray is versatile to put under the coffee maker and can hold a weight of up to 25 lbs. which is a sufficient weight. This product is easy to clean and is dishwasher safe, making it the best tray to put under a coffee maker.
Every buyer's first requirement is good customer care services. Kitchen Caddy has an exclusive team for supporting its buyers.
In a kitchen, arranging your small appliances is necessary so that you can find them on time. I know many people for them a messy kitchen with scattered appliances is annoying. On this small tray, you can arrange them. So, make it your helpmate for organizing your kitchen.
---
5. Ihomepack Kitchen Caddy Sliding Tray for coffee maker
The Kitchen Caddy Sliding Coffee Tray Mat is aimed to ease up your burden by holding the coffee makers whether it is heavy or light. It can also support other heavy appliances with its convenient and sleek design and could easily borrow up to 25 lbs.
The effortless usage property of the product makes it simple and handy. It is built out of premium ABS material which is BPA-free and can be used by everyone quite safely.
The coffee mat provided with the tray to put under the coffee maker is super sturdy and durable. The sliding function with wheels makes the product easier to move.
One might find, there are no extra features with this tray mat, but the user reviews of this product make it special. Almost every user has claimed its flexibility and perfect fit. Place your brewer on it, slide it while brewing, and then place it again underneath the cabinet. So using this slide out tray for coffee maker is the simplest method to save the cabinet from the steam wrap.
'Cleaning should be easy' is one thing I always recommend to a buyer to keep in mind. As you are planning to place your Keurig on it, there will be spills of coffee. But the ABS material is easy to clean and dishwasher safe. So, this coffee maker tray is a lucrative choice.
---
6. Copco coffee cab rolling tray for coffee machine
Small appliances like toasters, carafes, blenders, and small coffee makers when not in use make our kitchen cluttered. But the invention of the rolling trays is the equivalent equipment to organize your kitchen.
Copco is known for its product to organize and make your kitchen more stylish over the 40 years. It evolves its products according to the needs and trendy styles. This Copco coffee cab can make your life easy in a small kitchen.
It is a black-colored coffee maker tray with a striped upper surface. The small dimension (9.5 x 11.75 x 1.25 inches) makes it useful for the dead corners of the countertop. Place your small coffee makers, and coffee accessories like a coffee pot, and carafe on it and drag them on time from the corner.
The wheels are smooth enough that they do not cause any scratches on the floor. The kitchens that have pretty low cupboards should have this one as the glider system will make it easy to pour water into the water reservoir.
The product does have issues with the hard plastic material but utilizing tiny corners with small appliances works best.
---
7.GAGAYA Handy Sliding Tray for Coffee Maker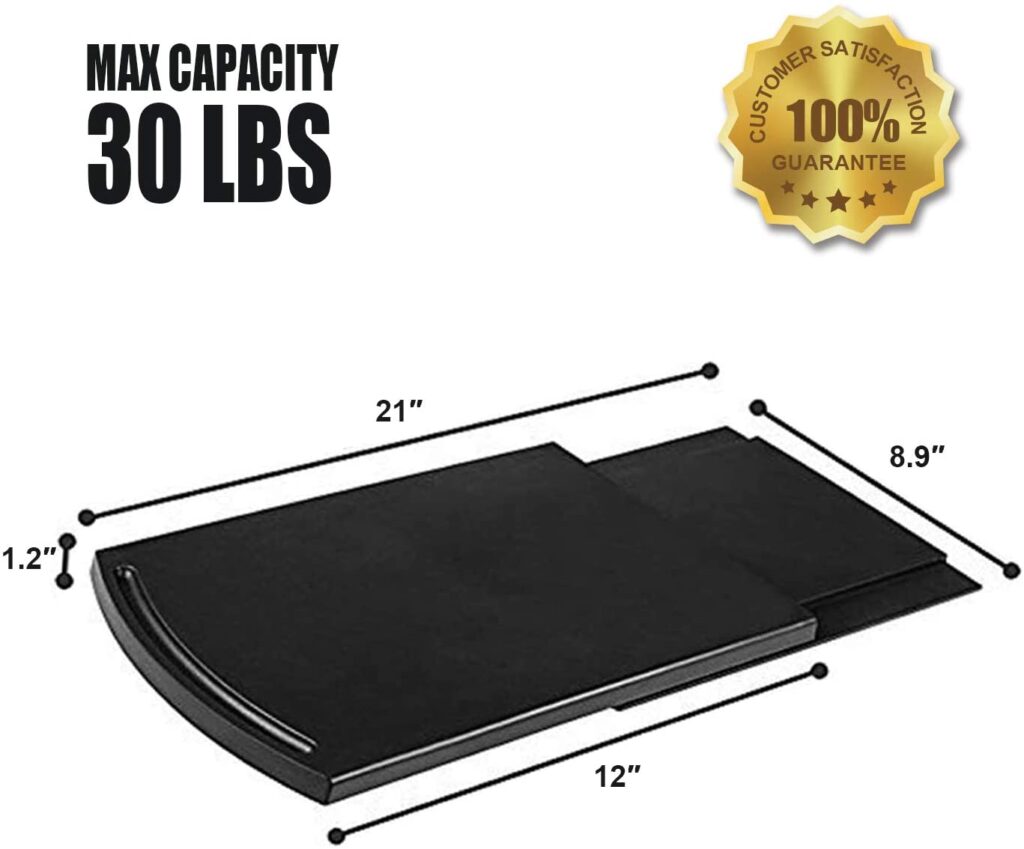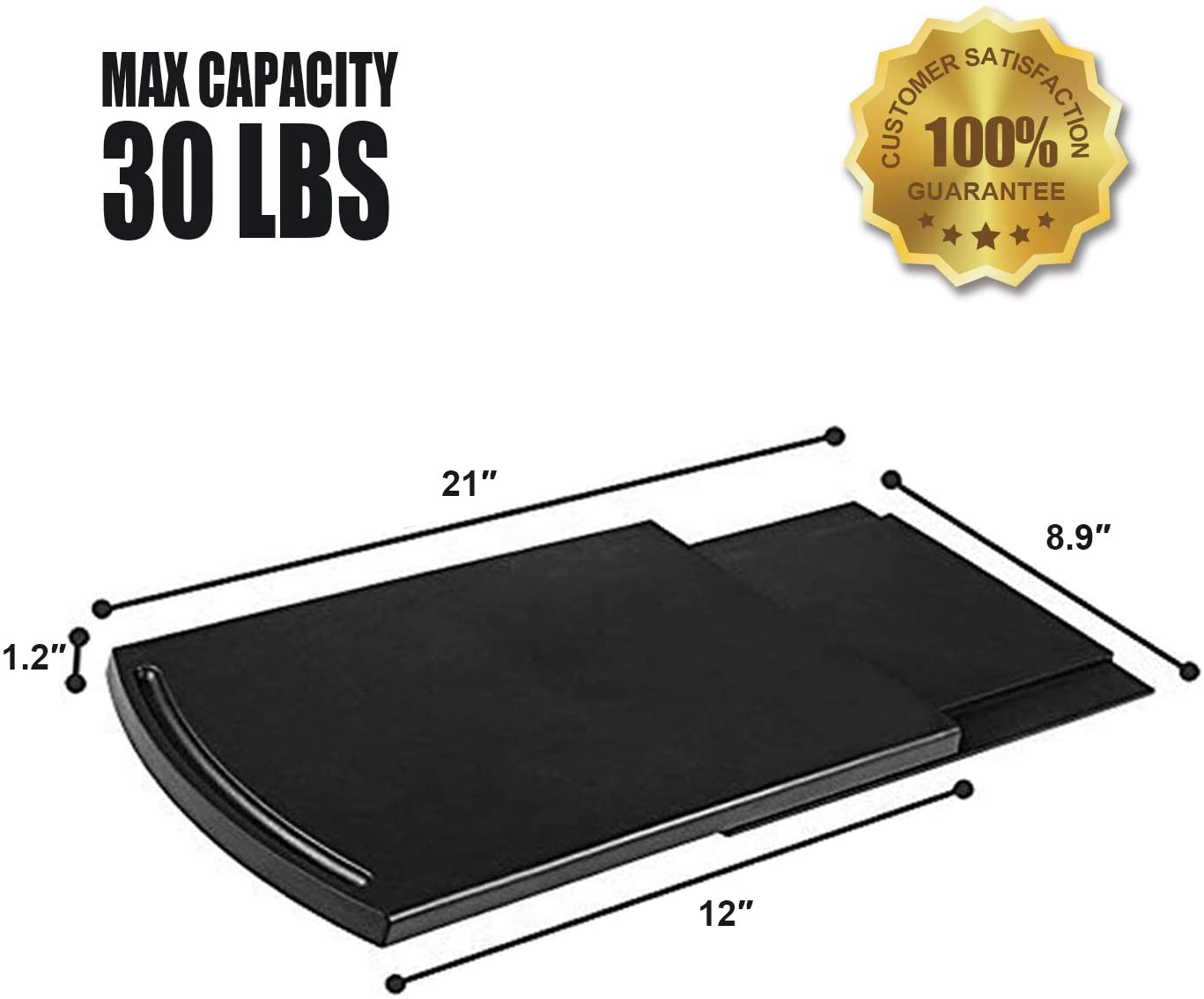 This is meant for multiple usages from coffee makers to food processors, it works great with any of them. The sliding tray is based on premium quality ABS material which is the best material for a coffee maker tray.
This material makes the product sturdy and durable enough to provide a weight capacity of 30 lbs. This huge capacity facilitates the movement of giant appliances from underneath the cabinet. The problems of pouring water or cleaning the counters have been solved.
The versatility of the product makes it buy again and again. Many buyers who bought this one for their Keurig have been so impressed that they buy this for their Aid mixer too. The smooth wheels end all your effort for gliding any appliance.
The wheels are anti-slip, so don't worry while working because your expensive appliance is in a safe place. It is a 12″x8.7″x1.0″ inch black colored tray to put under coffee maker. You can buy one, two, or three-pack GAGAYA sliding trays.
They provide top-quality customer service until the customers are not satisfied. They are also known for their lifetime support to their users.
---
8. Handy Caddy Sliding Tray for coffee maker
The small partner of the coffee maker from Handy makes your life easy in small kitchens and low countertops. The tray functions a little differently from the above-mentioned slide out trays for coffee maker.
It is 12 inches long and could extend up to 21 inches. The base stays in place, and does not move, only the slider shelf comes back and forth. The width of this tray is approx 8 inches. Placing this tray in a corner to arrange your kitchen would be a wise decision.
It moves effortlessly, even with the full coffee pot. The butler works as described in the product description and, no scratch will be there on your granite countertop. It has decent reviews from buyers who are happy with its features.
For the warranty details check the official site of the seller. It is one of the best trays to put under the coffee maker.
---
Buying Guide for Sliding Trays for Coffee makers
There are numerous types of sliding trays available in the market. Choosing the right type of sliding tray might be a hassle in the absence of a proper guiding manual. Therefore, before buying any product one must consult a sound buying guide for the best choice. We will guide you in this respect. Buying the perfect Sliding tray for your Coffee maker won't be a hassle now.
1. The width of the product
The size of the sliding tray should be an influencing factor before buying it from the market. It depends directly upon the size of the coffee maker which you are about to put on that tray. If your coffee maker is heavy or bulky you must consider buying a wider tray with greater depth to get a safer grip.
A tray that is wide and deep will help in serving the purpose of smooth movement of the appliance. If you intend to put a smaller coffee maker or want to utilize a dead corner of your kitchen then you must try a tray that fits in your countertop and has lesser width and depth.
However, keep in mind that the larger the tray is, the more difficult it will be for one person to handle. As a result, it is preferable to get a tray that matches your coffee maker.
2. Suitable material
ABS material-
Using a premium quality ABS-built coffee maker tray should be the first choice. As the ABS material is BPA-free and toxic-free, it maintains the hygiene of the kitchen countertop.
ABS is the most sturdy and durable material, which makes it long-lasting. There would not be any breakage even after years of use. That's why it's highly recommended, for heavy coffee makers like Nespresso and other appliances like food processors, toasters, and Air Fryers.
Steel Material-
Some sliding trays are made of steel material with rubber coating or other material on the upper surface. Steel is a stable and lasting material for heavy products and a good one for traction.
Rubber surface with non-slip pad-
Commonly coffee maker trays made with plastic, steel, or other materials come with rubber coating. Rubber is a material that you can clean easily. It does not hold the stains of coffee.
If your tray has a non-slip rubber pad, then it's more convenient to place your appliances on it because they will stick in their place.
Silicon Surface-
Silicon coating is another premium coating material that we can see on coffee maker trays. Silicon is hygienic, material, and heat resistant as well.
So if you change your mind about switching your Air Fryer on it instead of your coffee machine you could.
Plastic material-
When you are buying a plastic-made tray it's crucial to check the quality of the plastic. As hard plastics are prone to show breakage and crack after some time of usage.
But if the product is of good quality plastic it's suitable to borrow small appliances like toasters, carafes, and mini coffee makers. They are lightweight as well.
3. Ease of Maintenance
The next criterion that you must consider before buying a sliding tray is the ease of maintenance of the product. The sliding tray must be easy to clean. If the tray is made up of plastic or Teflon one must not use hard sponges to scrub and clean it. Instead, a soft cloth must be used with mild detergent to cleanse the surface of the product.
This will lead to an increase in the longevity of the product and will also help in the smoother movement of the tray. If the tray is made up of BPA-free material and is dishwasher safe, you can put it in a dishwasher and cleanse it. If you do not have a budget crunch it would be best to buy a dishwasher-safe tray.
4. Weight-lifting Capacity
You are looking for a sliding tray to get rid of the hassle of moving heavy appliances. Then you should check and consider the weight-lifting capacity. The tray has a 25 to 30 lbs weight capacity, which is an ideal capacity for lifting light to heavy all kinds of gadgets.
5. Easy to use
Check the gliding procedure of the tray. If you have to pull the tray without using the wheels then you might have scratches on the counter. So the most convenient system is the presence of the lever. With this system, you need to press the lever and glide the tray back or forth as per your need.
The button system as well is a good choice whereby pinching the button the brakes of the wheel release and you can slide the appliance.
6. The size of the rolling wheel
The size of the rolling wheel and the direction in which it moves has a major role to play in the choice of the best tray for your coffee maker. A bulky coffee maker will need a bigger tray with big rolling wheels to support the weight. The wheels in this scenario must not only move back and forth, they should also move side to side.
This will aid in the better and smooth movement of the appliance. Smaller wheels will suffice for a smaller coffee maker. A smaller appliance will need less space for its movement and will need smaller wheels for its smooth movement.
Related: Top 8 Best coffee maker mats for countertop in 2021
---
Frequently Asked Question
1. Do the wheels of the sliding tray make scratches?
The wheels of the sliding tray for the coffee maker are smooth and they roll effortlessly. So there are no chances of scratches on the floor. The materials of wheels are ABS or plastic that are not prone to scratches.
2. How does a coffee maker tray work?
The processing of a sliding tray under a coffee maker is very easy, as there are small wheels under the sliding shelf connected to the lever. You just need to drag the tray while pressing the button. Move it back and forth where you want.
3. Why to put a sliding tray under coffee maker ?
Basically, to slide out the heavy appliance, a coffee maker tray works as a helper. It makes the task super convenient. otherwise, to prevent scratches and spills on the countertop. We have a section devoted to this issue, so if you want to learn more about how to use the sliding tray in detail, go there.
---
Conclusion on Sliding Tray for Coffee Maker
There is a wide range of coffee maker trays available in the market, out of them finding the perfect tray to put under coffee maker is tricky. But buying a tray without considering your needs would not be a smart choice. I hope I have cleared your doubts about the best sliding trays available in the market.
Next time if you are in any doubt about the available number of options present at your disposal, consult this article and make a proper choice. I believe You will find your own customized coffee maker tray after giving this article a thorough read.